Boeing CEO Muilenburg Named Chairman as McNerney Exits Board
by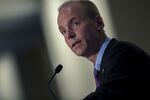 Boeing Co. Chief Executive Officer Dennis Muilenburg was named chairman of the aerospace company, succeeding former CEO Jim McNerney, who is stepping down as a director.
McNerney, 66, retired as chief executive in July after leading the planemaker over a decade marked by record aircraft sales and marred by ballooning costs for the 787 Dreamliner, Boeing's marquee carbon-composite jetliner. McNerney had remained under contract until February.
Muilenburg shared oversight of day-to-day operations of the company with McNerney for 18 months before being named CEO last year. He joined the planemaker as an engineering intern in 1985 and becomes chairman on March 1, Boeing said Monday in a statement.
"I think it's a natural evolution," Howard Rubel, a managing director at Jefferies LLC, said of Muilenburg, 52. "He's been groomed, and the board and Jim and the collective wisdom of the enterprise are very comfortable with his leadership."
Kenneth Duberstein will remain Boeing's independent lead director. 
McNerney joined the board in 2001 and ascended to CEO and chairman four years later. The company during his watch reaped profit from the longest-ever aviation boom and returned billions of dollars to investors through dividends and share repurchases.
Boeing also struggled with development and supply-chain snarls that caused the Dreamliner's production costs to rise to $28.5 billion. The Securities and Exchange Commission is investigating whether the company properly accounted for costs and revenues for the 787 and 747-8, Bloomberg reported Feb. 11.
Before it's here, it's on the Bloomberg Terminal.
LEARN MORE