pursuits
U.S. Stocks Fuel Global Retreat on Oil Slump, China; Gold Climbs
By and
China cut its yuan fixing by the most in more than a month

S&P 500 drops from six-week high as European shares slide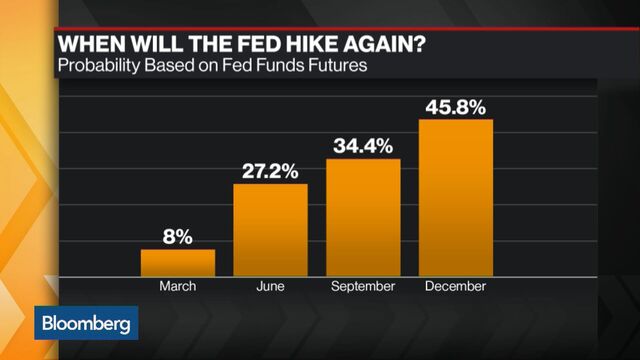 Investors got a reminder on Tuesday of their vulnerability to old threats, as China's management of its currency and a selloff in oil jarred equity markets and spurred demand for haven assets.
U.S. stocks slumped from six-week highs, with the Dow Jones Industrial Average falling more than 180 points as crude dropped on concern OPEC members won't curb output. Equities from Europe to emerging markets slid earlier in the session after China's central bank unexpectedly weakened the reference rate used for managing the yuan, rekindling concern over the state of the world's second-largest economy. The yen rose with gold and Treasuries advanced. Sugar surged the most in 22 years on prospects of an output deficit.

The reinvigorated demand for haven investments showed that China still has the capacity to disrupt markets, with stocks and commodities retreating after a period of relative calm over the past week. The reduction in the yuan's so-called fixing Tuesday was steeper than some analysts anticipated after the biggest since a run of cuts in January escalated fears of a global currency war, roiling markets. Crude's slump took it below $32 a barrel as Iran's oil minister labeled a plan by Saudi Arabia and Russia to freeze output "ridiculous."
"The catalyst for today is the Chinese overnight and all the different comments around oil," said Andrew Brenner, head of international fixed income at National Alliance Capital Markets in New York. "It's no more than a reversal of what we did yesterday. You tend to have reversal Tuesdays when you have good Mondays, so far that seems to be following the pattern. I expect equities to close down."
Stocks
The Standard & Poor's 500 Index fell 1.3 percent to 1,921.27 as of 4 p.m. in New York, after rallying on Monday to a six-week high. The index is down almost 10 percent from its May record and 5 percent lower this year on concern that weakness in China will damp global growth, and that lenders will suffer as some energy producers struggle to stay solvent amid low oil prices.
Energy shares and materials producers led declines on Tuesday, with Freeport-McMoRan Inc. down 8.7 percent and Chevron Corp. sinking 4.4 percent. Banks, which have buttressed the latest rebound in equities, also fell, with JPMorgan Chase & Co and Citigroup Inc. losing at least 3 percent.
Data Tuesday showed sales of previously owned U.S. homes unexpectedly rose in January to the second-fastest pace since early 2007. Near record-low mortgage rates, steady job gains and better wage growth are helping encourage prospective buyers, including first-time purchasers. A separate report showed the Conference Board's consumer confidence index decreased to 92.2 in February from a revised 97.8 a month earlier.
A retreat in resource stocks, led by BHP Billiton Ltd. after the world's biggest mining company cut its dividend, sent European stocks lower for the second time in three days. The Stoxx Europe 600 Index lost 1.2 percent and it hasn't posted two consecutive days of gains since December. BHP's first payout reduction in 15 years, coupled with a surprise loss from Standard Chartered fueled concern the global slowdown and tumbling prices for metals and oil are weighing on earnings. 
Currencies
The yen gained after China's weakening of the yuan rate surprised investors who'd anticipated little movement before the Group-of-20 meeting this week. Japan's currency, regarded along with gold and Treasuries as a haven asset, gained 0.7 percent to 112.10 per dollar after declining on Monday. The Swiss franc, another low-risk currency, also rallied to touch its strongest level in a month.
The yuan fell 0.1 percent to 6.5264 a dollar, according to China Foreign Exchange Trade System prices in Shanghai, while the currency's offshore rate slipped 0.2 percent to 6.5344 in Hong Kong.
The PBOC reduced the daily reference rate by 0.17 percent, putting it at a lower level than most modeling had predicted, said Sue Trinh, head of Asia foreign-exchange strategy at Royal Bank of Canada in Hong Kong. China's shock devaluation of the yuan last August triggered a bout of global market turmoil that reverberated throughout the third quarter.
The pound dropped to its weakest level since 2009 as Bank of England policy makers said that uncertainty over Britain's membership of the European Union is weighing on the currency. Britain's referendum on its membership, scheduled for June, is also boosting currency-market risks across the continent, with the cost of options protecting against losses on the euro increasing. 
Bonds
Treasuries advanced as the drop in stocks and in oil prices spurred demand for U.S. debt. Yields on 10-year notes fell three basis points, or 0.03 percentage point, to 1.72 percent.
"It all goes back to the recent volatility in inflation expectations," said Jim Vogel, head of interest-rate strategy at FTN Financial in Memphis, Tennessee. Falling oil "puts pressure on shorter-term inflation expectations."
German bonds meandered Tuesday, masking a general strengthening trend as the securities remain supported by concern that the global economy is still in the doldrums, with investors increasingly doubting that central banks can stimulate it.
Yields on Japanese bonds due in a decade were little changed at 0.004 percent, after sliding into negative territory again on Monday.
Emerging Markets
Emerging-market stocks also fell from a six-week high after the People's Bank of China's yuan reference rate move, reinforcing concern that the slowdown in Asia's No. 1 economy isn't abating.
South Africa's equity benchmark dropped 1.1 percent, while India's S&P BSE Sensex Index ended a four-day advance in Mumbai before a parliamentary session on the budget. Turkish stocks and the lira extended gains after policy makers kept interest rates unchanged. The Shanghai Composite Index decreased 0.8 percent from a one-month high.
Indian government bonds retreated along with Eastern European currencies, while the Brazilian real slipped 0.3 percent, even after a surprise acceleration in annual inflation in the month through mid-February and after the central bank refrained from raising borrowing costs.
Commodities
West Texas Intermediate crude fell below $32 a barrel, closing at $31.87 after Saudi Arabia indicated it won't cut oil production as other countries would be unlikely to assist in restraining output, leaving the burden of adjusting supply with high-cost producers. Earlier, Bijan Namdar Zanganeh, Iran's oil minister, said the Saudi-Russia proposal out "unrealistic demands" on his country, which is just starting to ramp up output following the lifting of international sanctions.
Gold rose as investors bought metal through funds at the fastest pace in almost six years. Gold futures for April delivery advanced for the fourth time in five days, adding 1.4 percent to $1,227.20 an ounce.
Raw-sugar futures jumped 8.9 percent, the most since March 1993, after the International Sugar Organization boosted its forecast for a production deficit in the current crop year amid rising concern over the impact of El Nino weather patterns on supplies.
— With assistance by Alexandra Scaggs, Luzi-Ann Javier, Emma O'Brien, Stephen Kirkland, and Rachel Evans
Before it's here, it's on the Bloomberg Terminal.
LEARN MORE