Source: Jaguar Land Rover
Car Reviews
The 2016 Jaguar XJ-R Sedan Is the Perfect Shape and Size
It looks like all the other top-tier sedans but stands above them.
by
The 2016 Jaguar XJ-R Sport is a luxury sedan that looks like a lot of other luxury sedans. The crimped hood is going in a BMW 7-Series direction. The back looks like, well, a back. The fish-mouth grill looks almost like that of an Audi A4.
And remember the way Jags used to look? You could spot one blocks away.
What you don't realize at first glance is that, while Jaguar is doing the same sedan design everyone else is doing, they are the ones doing it best. The XJ-R embodies the form in a way that exceeds everything else.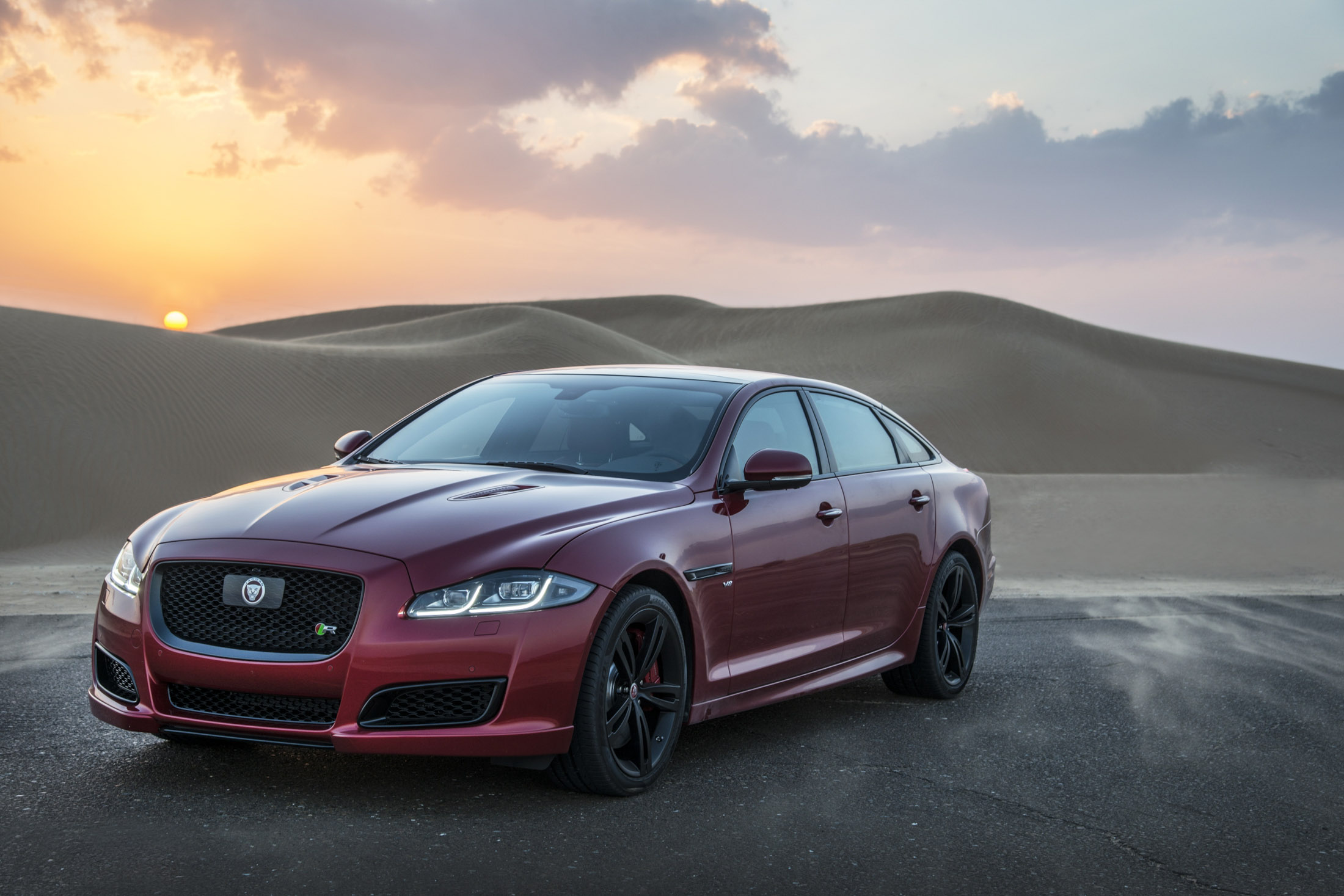 An Exciting Option in a Dull Segment
I drove the $81,775 XJ-R around New York last week, dipping for moments into Brooklyn and spanning the upper reaches of the West Side Highway before putting it to work as a conveyance to several New York Fashion Week runway shows, not to mention a last-minute trip to Fort Greene, Brooklyn.
The car is surprising. While we know and love the F-Type, offerings from Jaguar in recent years have been somewhat less compelling. But a British friend of mine in town for Fashion Week went gaga over the XJ-R's jet interior with ivory stitching; he loved the fact that the panoramic sunroof involves two roofs, one for the front and one for the rear, that operate independently of each other.
"My granddad liked Jaguar," was one of the few things I could make out through his thick accent and liberal use of Anglo slang like "I was a bit of a jack-the-lad at Uni" and "What's say we go for a double-zed-er?" (Pizza. Of course.)

Anyway, this under-30, red-blooded male—with a smart Rolex and an eye for design—approved the look of the car, which is rampant progress for the brand that sat stagnant in past years under the weight of sleepy design and finicky mechanics. Seems the brand appeal has skipped a generation, from his grandfather directly to him.
The Stats
I felt the same. The XJ-R is the largest and most expensive of the four-door sedans Jaguar offers in the United States. It comes with a V6 engine supercharged to 340 horsepower and bolstered by dynamic stability control and adaptive all-wheel drive. (I turned off the fuel-expedient but annoying auto-start/stop function found in most of the new models from Jaguar Land Rover as soon as I got inside.)

This all-wheel-drive version of the XJR line gets to 60 miles per hour in 6.1 seconds, which is the slowest of the family (the V8 XJR gets there in 4.4 seconds) but the most capable for adverse weather and road conditions. Top speed is 121mph.
From behind the wheel, the car feels perfect in its dimensions—not too long a hood, not too fat a tail. It's wide enough to accomodate five tall adults but easy to parallel park in any old West Village spot, should the need arise. I can imagine that owning an XJ-R would be like Goldilocks finding her perfect chair: not too big, not too small. Just right.
When you press the gas, the car surges in one secure swoop; the steering wheel is dimensioned so well that you don't notice whether it's small, large, thick, or thin—a phenomenon that never happens in other cars—and the associated handling is focused like a bullet. You'll be surprised at the energy you feel when you ask it to move. It's a different intensity from anything we've seen at Audi, Lexus, or Mercedes lately.
Plenty To Offer, Inside and Out

If you can afford it, I'd choose to include the adaptive cruise control to your car, the park-assist cameras, the heated windshield (you'll be driving in snow, after all), the 26-speaker Meriden surround sound system, and the front-seat comfort pack that includes side rear shades for increased privacy while you drive. Skip the illumination package that lights up the "Jaguar" logo in the floorboards like a nightclub. as well as the superfluous four-zone auto climate control. Does anyone actually use the massaging seats that come optional in cars like this? I certainly don't, other than to give them a brief test—their pressure is far too light and not targeted enough for my taste. I'd leave that option behind as well.
Plenty of other nice things come as standard components of the car: the handsome 19-inch wheels; the full LED front and rear lights; the eight-inch touchscreen integrated with the round knob that controls Drive functions; and the "InControl" remote that allows you to monitor your XJ through your smartphone to check fuel levels, temperature, and security when you're not around. The combination of heated and cooled front and rear seats is a rare "standard-issue" treat in this segment.
Frankly, It's Handsome
I do wish this sedan were a bit more economical: A guzzle rate of 17 miles per gallon in the city and 26mpg on the highway is hardly generous. But it's tough to stay true to your ideals in front of such a handsome face. (We've all been there, right? Maybe not as often with a sedan.)

The XJ-R manages to lure with a long physique that evokes the same sleek feline that jumps forward on its logos. The new ammonite gray paint highlights the sculpted sides, gloss black radiator grille, and chiseled nose; the discrete red-badge labels and dark wooden steering wheel play peekaboo on second take like the interior lining of a bespoke suit. Jaguar has managed here to give us something that regards its aggression as better spent underneath the hood than flung around like ill-spent plastic on an over-styled exterior.
That attention is evident throughout, come to think of it. Whether performing under pressure or simply standing still, the XJ-R sedan piques our interest in a segment that, more often than not, just bores.
Before it's here, it's on the Bloomberg Terminal.
LEARN MORE