`Brexit' Would Be Negative for the U.K., Ratings Companies Say
by
Moody's says it may cut Aa1 credit rating if U.K. exits EU

Britain leaving bloc would hit investment, Fitch says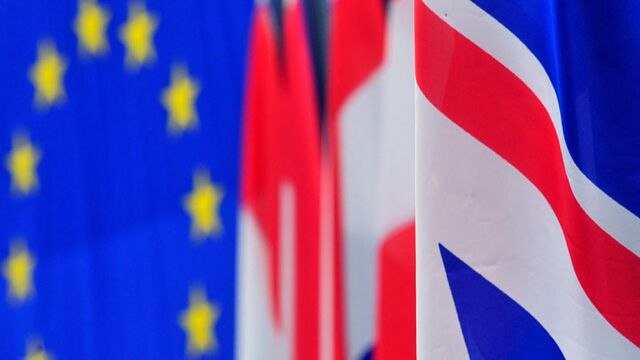 A U.K. exit from the European Union would be negative for the British economy and its standing among investors, according to Fitch Ratings and Moody's Investors Service.
Moody's said it would put the U.K. on notice for a possible downgrade if Britons vote to leave the bloc in a referendum on June 23. Fitch said uncertainty in the event of a so-called Brexit would hurt business confidence and curtail investment. Britain is rated Aa1 at Moody's and AA+ at Fitch, both the second-highest investment grade.
"A decision to leave the EU would be credit negative for the U.K.," Kathrin Muehlbronner, a senior vice president at Moody's, said in an e-mailed statement on Monday. "The economic costs of a decision to leave the EU would outweigh the economic benefits."
The pound fell the most since the banking crisis on Monday after London Mayor Boris Johnson became the highest-profile figure to say he'll campaign to quit the EU. The decision by one of the U.K.'s most popular politicians marks a setback for Prime Minister David Cameron's case for staying in the world's biggest trading bloc.
'Prolonged Uncertainty'
A vote to exit "would likely lead to a prolonged period of uncertainty, which would negatively affect investment," Moody's said. "It would also place a significant burden on policy makers who would have to renegotiate the U.K.'s trade relations with the EU and other countries and regions, as well as reconsider other areas such as regulatory and immigration policies."
With polls disagreeing on the outcome of the June referendum, concerns are also resurfacing over the possibility of Scotland's secession from the U.K. in the event of vote to leave the EU. Scottish First Minister Nicola Sturgeon has said that a British exit without Scotland's backing would trigger a demand for another Scottish independence referendum.
Sterling dropped to its lowest level in almost seven years against the dollar and weakened against all its 16 major peers. It slid 1.9 percent to $1.4143 as of 4:38 p.m. London time, set for the biggest decline since 2009.
Fitch, which doesn't predict the U.K. will exit the EU, said uncertainty about British companies' access to European markets following a vote to leave would weigh on sentiment and delay investment decisions. That may push officials to quickly negotiate new terms, mitigating some of the adverse impact, it said.
"We believe that in the event of a leave vote, the authorities on both sides would try to avoid disrupting the deep economic and financial integration between the U.K. and EU by establishing a clear new relationship," Fitch said. "Avoiding large-scale, permanent disruption to trade relations, including services, could limit the long-term economic cost to the U.K., with Brexit only moderately negative."
Before it's here, it's on the Bloomberg Terminal.
LEARN MORE