Nigeria Backs Oil Freeze Accord While Giving Iran Way Out
by
Iran, Iraq should be allowed to recover some lost market share

Nigeria's Kachikwu to meet with Saudi oil minister on Monday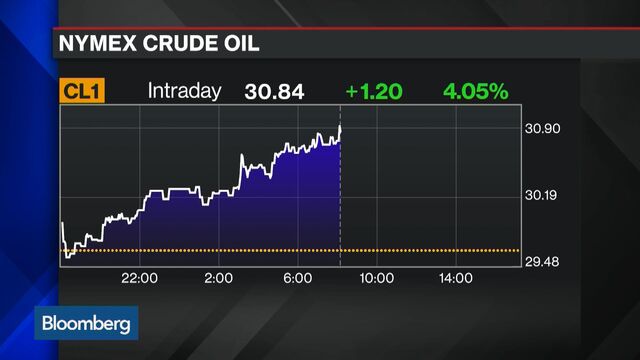 Nigeria backed Saudi Arabia and Russia in freezing oil production while giving Iran and Iraq a way out to regain some of their lost market share due to sanctions and war.
The biggest oil producer in Africa supports a production freeze, Nigerian Energy Minister Minister of Petroleum Emmanuel Kachikwu told reporters in Doha on Sunday. Its oil production will be 2.2 million barrels a day this month, unchanged from January, he said.
"Countries like Iran and Iraq have been out of the market for a while and if they are to come back you shouldn't freeze them out where they are, you should freeze them at a higher level," Kachikwu said. "By June we will come very close to tightening the market."

Saudi Arabia, Russia, Venezuela and Qatar agreed last week to keep production at January levels, as long as others follow suit, in an effort to revive prices from a 12-year low. Iran's production has slumped since international sanctions were imposed on its exports, and Iraq is seeking to rebuild following years of war and under-investment.
Kachikwu spoke with reporters after meeting with Qatar's Energy Minister Mohammed Al Sada and Qatar Petroleum Chief Executive Officer Saad Sharida Al Kaabi in Doha. Kachikwu and Nigerian President Muhammadu Buhari will meet the Saudi king on Tuesday in Riyadh, where they'll discuss efforts to stabilize crude prices, according to an e-mailed statement from the president's office.
"Nigeria will continue to look at the possibility of increasing production, not to sell it, because we have local consumption that is essential for us," Kachikwu said. "Right now we are not even exporting the quantity that OPEC has given us." Demand from domestic refineries is at least 500,000 barrels of oil a day, he said.
There is little chance that the Organization of Petroleum Exporting Countries will hold an emergency meeting before the next regular one scheduled for June, Kachikwu said. "Rather than focus on emergency meeting, we need to talk more. Because if you held a meeting when you haven't agreed largely on the solution it wouldn't be productive and would also affect the price of oil."
Before it's here, it's on the Bloomberg Terminal.
LEARN MORE