Negative Rates Advocate Fujimaki Says BOJ's Kuroda Got It Wrong
by , , and
BOJ can't halt inflation once it takes hold, Fujimaki says

Says Japan should weaken yen to spur inflation, boost economy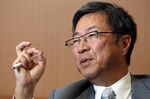 The Bank of Japan took a wrong turn by adopting negative interest rates this year, says Takeshi Fujimaki, the Japanese banker turned opposition lawmaker who first called for sub-zero yields two decades ago.
Governor Haruhiko Kuroda's decision to charge for some deposits parked at the central bank is punishing those who hold the cash he just spent 2 1/2 years pumping into the economy. And the BOJ is boxing itself into a corner because it won't be able to stop its asset purchases once inflation takes hold, raising the specter of fiscal collapse as yields soar, the 65-year-old lawmaker said.
"The BOJ is trapped," Fujimaki, who has been predicting an eventual default in Japan over the past 20 years, said in a Feb. 16 interview at his office in Tokyo. "Minus rates weaken the yen and push up inflation, but the BOJ doesn't have the courage to expand negative rates because that will expedite a fiscal collapse."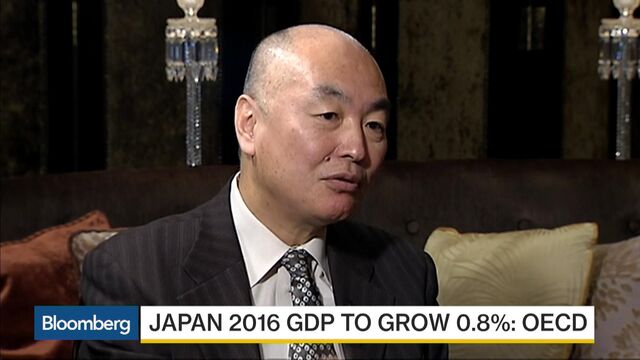 The decision to set negative rates, which scraped through on a 5-4 vote at the Jan. 28-29 BOJ meeting, has driven bond volatility to the highest since 2013 as 10-year yields plunged below zero for the first time. While the European Central Bank has the same policies, Japan's problem is that it adopted them in the reverse order, flooding the system with cash under qualitative and quantitative easing and then penalizing holders of cash with negative rates, Fujimaki said. That includes the central bank that now owns more than a third of the country's government bonds.
The ECB cut its deposit rate below zero in June 2014 in an unprecedented move to counter the prospect of deflation and President Mario Draghi unveiled the institution's extended bond purchase program in March last year.
Who Will Buy?
Negative rates are a conventional central bank tool and will have an effect, but then things get tricky, according to Fujimaki. "The BOJ needs to raise rates when the economy improves and inflation rises: Can they raise rates when the economy is flooded with abundant cash?" he said. "It can't absorb the money it provided through QQE. The BOJ needs to exit QQE and absorb the money. To do that, it needs to sell JGBs, but who in the private sector would buy when they know prices will fall?"

In contrast to previous surprises from Kuroda when he started massive asset purchases and then expanded easing, negative rates haven't helped the stock market. Japan's Topix index tumbled as much as 17 percent in February and is heading for its first three-month slide since early 2014. Shares in the banking sector have plunged 23 percent since the day before Kuroda's announcement. Negative rates are likely to shrink net interest margins that are already among the lowest in the world.
Banks Unprepared
Japan's uncollateralized overnight call market, the core funding markets because it is where banks lend to each other, has been slow to adapt to the BOJ's latest policy. Domestic banks didn't borrow or lend at negative rates until three days after they came into effect on Feb. 16 as financial institutions were caught unprepared to set up systems to deal with them.
"As a result of QQE, the yield curve has flattened and because bank deposits aren't negative, banks are suffering from reserve curve that's hurting their profitability," said Fujimaki, who was briefly at Soros Fund Management in 2000, joined the Tokyo office of Morgan Guarantee Trust Co. in 1985 and won his upper house seat in July 2013. "If the curve is steep, banks can make profits even at negative rates. It was a mistake to adopt negative rates after QQE."
Approaching Limit
The BOJ announced its negative rate policy amid concern that the unprecedented bond-buying to expand the monetary base by 80 trillion yen ($708 billion) annually is reaching its limit, while the goal of stable 2 percent inflation remains a distant prospect. The central bank is already buying nearly all the JGBs issued to markets, while consumer prices languish near zero almost three years after Kuroda laid out his target. He has said he won't hesitate to take action to meet its inflation goal, suggesting more rate cuts are possible.
Instead, Fujimaki says Japan should intervene to buy dollars and weaken the yen and sell longer-dated U.S. Treasuries and buy shorter-maturity bills for capital gains without affecting the currency market.
Japan's currency reached 110.99 yen per dollar on Feb. 11, its strongest since October 2014. It traded at 112.93 as of 6 a.m. Monday in London. The yield premium 10-year Treasuries offer over equivalent Japanese debt is about 176 basis points. The Treasury yield will rise to 2.41 percent by the end of 2016, while that for JGBs will be at 0.15 percent from minus 0.005 percent on Monday, according to Bloomberg surveys.
Japan has the world's heaviest debt burden, with the ratio of borrowing to gross domestic product more than twice the average for Group of Seven nations. It will rise to 250 percent by 2018 from 246 percent in 2015, according to the International Monetary Fund.
"Japan has ballooning debt and the BOJ is financing debt, that's the problem," Fujimaki said. "The yen will weaken further and the risk heightens of a hard landing. There is no debate on an exit policy, so once the economy improves, it will bust and there will be hyperinflation. "
Before it's here, it's on the Bloomberg Terminal.
LEARN MORE