Lafite 2006 Above Release Price as Haut Brion Lags, Liv-ex Says
by
Most Liv-ex Left-Bank 200 Index wines have risen since release

Mission Haut Brion, Leoville Las Cases available at discount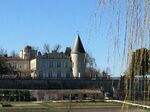 Chateau Lafite Rothschild's 2006 wine is quoted at 4,600 pounds ($6,630) per 12-bottle case, 44 percent above the price at which it was released, while Chateau Haut Brion's wine is at a 14 percent discount, according to a blog from the London-based Liv-ex exchange analyzing the market as it enters its 10th year since the vintage.
Among other left-bank first-growths, Chateau Latour 2006 is trading at a slight premium while Chateau Mouton Rothschild and Chateau Margaux are broadly unchanged, Liv-ex said. Seventeen of the 20 other leading estates making up its Left Bank 200 Index have seen their 2006 vintage rise in price since release.
Top wine estates typically sell their wine to Bordeaux merchants and on into the wider market between six and eight months after the harvest, while it is still maturing in barrels. Bottles become physically available the following year. While the system can enable collectors to buy wines cheaply and watch them appreciate as they mature, in the past decade many wines have declined in price following release amid a slowdown in the global economy, reduced demand from China and merchant criticism of pricing policies.
Of the vineyards in the broader Liv-ex Bordeaux 500 Index, which includes 10 vintages from each of the first growths, the Left Bank 200 and other producers from around the region, "34 of the 50 wines from 2006 within the index have gained or held value since release," Liv-ex said in its blog. "The average price change since release is plus 5.5 percent."
Second wines of the first-growth estates, which are cheaper and designed for earlier drinking, have increased the most on average since release, led by Carruades de Lafite, according to Liv-ex, while the biggest decliners have been the sweet whites of Sauternes, led by Chateau d'Yquem.
While most of the wines are still priced well below the highs of their trading ranges over the years since release, Chateau Calon Segur 2006 and Chateau Smith Haut Lafitte 2006 stand out as being currently priced at their highest-ever level, according to Liv-ex.
The three 2006 wines in the Left Bank 200 Index trading below their release price are Chateau La Mission Haut Brion, Chateau Leoville Las Cases and Chateau Pape Clement, with La Mission 2006 offering the greatest discount after a 49.2 percent decline.
Before it's here, it's on the Bloomberg Terminal.
LEARN MORE