OPEC's Path From Oil Freeze to Output Cuts Is Far From Clear
By
Production cap requires few sacrifices from major producers

Saudi Arabia is sending signals that its policy could change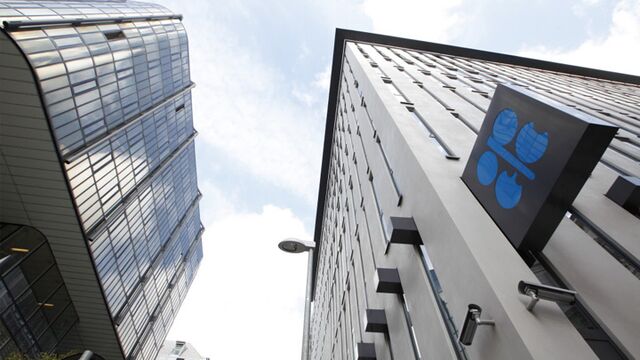 Saudi Arabia said its accord with Russia to cap oil production was "the beginning of a process," but the path from a freeze to the output cuts needed to eliminate a global surplus is far from clear.
When Saudi Oil Minister Ali al-Naimi suggested that the agreement in Doha was a prelude to "other steps," he fanned hopes that the kingdom's resistance to production cuts was finally weakening. Oil's recovery from a 12-year low last month was fueled by speculation that major producers were finally building a coalition that could work to end the glut.
The problem with using a production freeze as the bedrock for deeper cooperation is that none of the parties involved have to make any effort to comply.
"The four producers involved are already producing close to their peak," said Miswin Mahesh, an analyst at Barclays Plc in London. "The freeze is the oil-market equivalent of calling for a cease-fire when they're running out of ammo."
The accord reached Feb. 16 in the Qatari capital marks the first sign of the cooperation between OPEC and non-members that Saudi Arabia has said is necessary before it agrees to curb production. The failure of previous attempts at coordination, such as when Russia offered to curtail supply in 2008 only to keep pumping, makes analysts doubtful this latest union will go ahead. Divisions over the conflict in Syria -- where Saudi Arabia and Russia back opposing sides -- are also an obstacle.
Al-Naimi may clarify what to expect from the agreement when he gives a special address at the IHS CERAWeek conference in Houston on Tuesday.

Nigeria, another member of the Organization of Petroleum Exporting Countries, supports an output cap but also backs giving Iran and Iraq room to regain lost market share, the African producer's Minister of State for Petroleum Resources Emmanuel Kachikwu told reporters Sunday in Doha. Kachikwu and Nigerian President Muhammadu Buhari will meet the Saudi king on Tuesday in Riyadh, where they'll discuss efforts to stabilize crude prices, according to an e-mailed statement from the president's office.
"Countries like Iran and Iraq have been out of the market for a while and if they are to come back you shouldn't freeze them out where they are, you should freeze them at a higher level," Kachikwu said. "By June we will come very close to tightening the market."
Russian Potential
As Russian Deputy Prime Minister Arkady Dvorkovich acknowledged on Feb. 16, following through with the output freeze is no great stretch for the world's second-largest crude producer. Most companies won't have to take any measures to comply and the nation's output was already on track to remain stable this year after recent tax increases reduced the potential for growth, he said.
"Freezing production does not really change our view on Russia supply for this year," said Jeff Currie, Goldman Sachs Group Inc.'s New York-based head of commodities research. The nation's output won't grow any further after it reached 10.84 million barrels a day last month, the bank estimates.
Saudi Arabia already boosted output by about 500,000 barrels a day in the past year to near-record levels of more than 10 million barrels a day. While the Middle Eastern country has at least 1 million barrels a day of spare capacity, it probably doesn't intend to tap the reserve, which is held back to cover market disruptions, said Harry Tchilinguirian, head of commodity markets strategy at BNP Paribas SA.
Tentative Step
For some observers, the Russia-Saudi detente is the first tentative step toward something bigger -- the revival of OPEC's appetite for market management.
"OPEC is not dead," Olivier Jakob, managing director at consultants Petromatrix GmbH, said by e-mail from Zug, Switzerland. "It's back."
Jakob described the freeze as an interim measure that will culminate in agreement on new production quotas at the group's next meeting on June 2. The organization's last gathering ended with the abandonment of any limits on output as members focused on defending market share against rivals both internal and external.
"This is a real, credible plan to get everyone on board," said Yasser Elguindi, oil analyst at New York-based consulting firm Medley Global Advisors. "If Iran at some point freezes, then this allows for a potential discussion of cuts if they are needed."
Saudi Communications
Iranian Oil Minister Bijan Namdar Zanganeh welcomed the Doha accord without saying if Iran would deviate from plans to ramp up exports by as much as 1 million barrels a day this year after international sanctions were lifted last month.
Iraq welcomes the discussions and encourages all efforts to control market prices, Oil Minister Adel Abdul Mahdi said in an interview in Tokyo Monday. He didn't say if Iraq would consider freezing output.
Even if the Doha pact doesn't develop into a deal to curb production, it marks a significant shift in Saudi communications strategy, which was hitherto focused on pursuing market share, said Antoine Halff, a senior fellow at the Center on Global Energy Policy at Columbia University in New York.
"It's a way for Saudi Arabia to keep its options open, to tell the market they're not wedded to one policy," Halff said. That in itself could make oil traders think twice before taking new short positions, he said.
The effectiveness of this message faces an imminent test. Even if oil production remains frozen at January levels, there's no shortage of other factors to put pressure on prices. Seasonal demand typically peaks in February and keeps falling until May. Crude stockpiles in the U.S. are the highest in more than 80 years and are still rising, according to Energy Information Administration data.
Brent oil, the global benchmark, has fallen about 70 percent since a 2014 peak. Prices were up 92 cents, or 2.8 percent, at $33.92 a barrel on the London-based ICE Futures Europe exchange at 10:52 a.m. local time on Monday.
OPEC Meeting
"With refinery maintenance season looming and stock builds projected for as far as the eye can see, the market will before long test OPEC's verbal intervention and likely demand real cuts," said Bob McNally, head of consultants The Rapidan Group in Washington. 
The output freeze should continue for at least three months before considering actual reductions in supply, said a person with familiar with the Doha accord, who asked not to be identified because the information is private. That could make OPEC's June meeting in Vienna the venue for crunch talks on output cuts between Saudi Arabia, Russia and other major producers -- something they tried and failed to achieve in November 2014.
"Oil production cuts would be very difficult," said Amrita Sen, chief oil analyst at consulting firm Energy Aspects Ltd. in London. "But OPEC has introduced enough uncertainty that speculators need to think twice about their bearish bets."