Arabtec Buoys Dubai Stocks as Most Gulf Markets Retreat
by , , and
Almost 100 million Arabtec shares traded after full-year loss

Qatari index drops most in more than a week; Abu Dhabi slips
Arabtec Holding Co. led stock gains in Dubai, advancing the most in four weeks as some investors bet the worst may be over for the construction company after it posted its first-ever yearly loss. Qatari shares dropped.
More than two Dubai shares climbed for every one that fell, with Arabtec adding 8.3 percent as traders exchanged 97 million shares, more than a quarter of the DFM General Index's total volume. The gauge fell as much as 0.3 percent before closing little changed. Qatar's QE Index slid 0.6 percent and Kuwait's SE Price Index dropped 0.2 percent.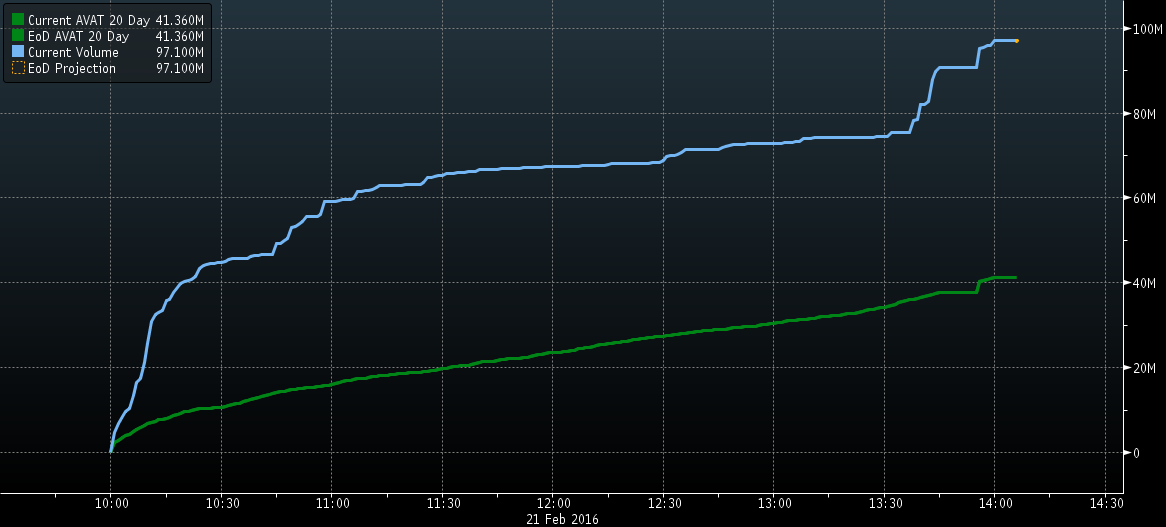 Arabtec, the biggest publicly traded construction company in the United Arab Emirates, posted a net loss Sunday of 2.35 billion dirhams ($640 million) for 2015, compared with a profit of 214.6 million dirhams the previous year, amid a property slowdown in the country. The contractor, controlled by Abu Dhabi's Aabar Investments PJSC, has been restructuring and trimming expenses since a selloff in June 2014.
Investors "are hopeful that the company has finished cleaning up its books under the new management," said Nabil Farhat, an Abu Dhabi-based partner at Al Fajr Securities. "Retail investors are optimistic about the project pipeline."
Arabtec said its backlog is worth 19.3 billion dirhams and it's continuing to win business. The company, which is building a branch of the Louvre museum in Abu Dhabi, said it has received letter of intent from the ministry of transportation in Bahrain for a $1.1 billion joint venture with TAV Construction. Last month, Arabtec was awarded a 2 billion dirham contract from Aldar Properties to build 1,017 villas.
Saudi Falls
The Tadawul All Share Index in Saudi Arabia, the world's largest oil exporter, slipped 0.1 percent. National Commercial Bank, the biggest contributor to the drop, lost 1.7 percent, the most in a week. The lender last week said it will close two branches in Lebanon.
Saudi Arabia, Russia, Venezuela and Qatar reached a preliminary agreement in Doha on Tuesday to freeze crude output at January levels if other states join them. Major oil-producing nations agreed to wrap up talks on capping output by the start of March, Russian Energy Minister Alexander Novak told state TV on Saturday. Brent crude fell 3.7 percent to $33.01 a barrel on Friday.
"The correlation is still strong between the Saudi stock market's performance and oil prices," said Mohammed Alsuwayed, the Riyadh-based head of capital and money markets at Adeem Capital. Investors are "cautiously optimistic about policy change in oil strategy after news of talks among oil producers recently, which would lift pressure on the market for some time," he said.
Oman's MSM30 Index and the Bahrain Bourse All Share Index both slid 0.1 percent.
Egypt Gains
Egypt's EGX 30 Index climbed 1.1 percent. Companies making up the gauge are trading at an average of 6.1 times their estimated earnings over the next 12 months, near the lowest ratio since 2013.
"The EGX looks extremely cheap right now," said Allen Sandeep, the director of research at Cairo-based Naeem Brokerage. "We're seeing a tentative rebound from the negative sentiment surrounding the weakness of the Egyptian pound because in reality it's still not clear if that will affect imports."
Commercial International Bank Egypt SAE, the nation's biggest publicly traded lender, led gains with a 1.8 percent increase. Central Bank Governor Tarek Amer said last week the regulator isn't considering a devaluation of the currency, after the deepening shortage of dollars pushed the pound to a record low in black-market trading.
Israel Rises
Israel's TA-25 Index climbed 0.3 percent at the close in Tel Aviv. NICE Systems Ltd.'s 1.8 percent advance was the biggest contributor to the gain.
IDB Development Corp. soared 45 percent, the most since the stock started trading on the bourse in May 2014. The company's controlling shareholder, Dolphin Netherlands BV, is seeking to buy the equity it doesn't already own, IDB said in a statement to the exchange on Sunday.
Before it's here, it's on the Bloomberg Terminal.
LEARN MORE