Global Shares Rally With Crude While `Brexit' Tussle Hits Pound
by and
Energy stocks drive gains amid demand for beaten-down assets

China shares jump after head of securities regulator replaced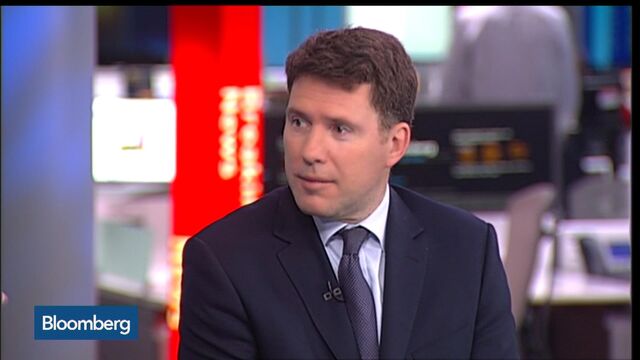 Stocks across the globe rallied, with the Standard & Poor's 500 Index extending gains following its best week of 2016, as oil and metals advanced. Treasuries, gold and the yen declined amid reduced demand for haven assets.
Energy and material shares led equities higher, as investors scooped up the past year's worst performers. The MSCI All Country World Index closed at its highest level since Feb. 1, as crude surpassed $31 a barrel and iron ore rose to a four-month high. The pound weakened after London Mayor Boris Johnson said he'll campaign for Britain's exit from the European Union, putting him at odds with Conservative Party leader Prime Minister David Cameron. The weekend ouster of China's chief market regulator sparked equity gains in Shanghai.

While Britain's currency was roiled by the specter of its departure from the EU, stocks maintained momentum after their best week since October as oil traders considered whether prices would get a boost from an output freeze led by Russia and Saudi Arabia. Investors were also encouraged by the removal of Xiao Gang from the helm of the China Securities Regulatory Commission, as leaders there seek to attribute responsibility for January's market rout. The rebound in global equities from a two-and-a-half year low reached Feb. 11 has retraced almost half the MSCI index's losses this year.
"This is a continued recovery from the big correction we've encountered," said Eric Green, director of research and senior managing partner at Penn Capital, which has more than $6 billion under management in Philadelphia. "Earnings are coming in a little better than low expectations, valuations in the market have become attractive and sentiment is very, very negative. All those things along with the fact that you're getting a bounce back in oil prices are contributing to the beginning of the upside."
Stocks
The S&P 500 rose 1.5 percent to 1,945.50 as of 4 p.m. in New York, after posting its strongest weekly advance since November in the four days to Feb. 19. Freeport-McMoRan Inc. and Alcoa Inc. soared more than 12 percent as data Monday also showed a measure of January manufacturing in the Chicago area improved more than analysts expected.
Shares of Valeant Pharmaceuticals International Inc. tumbled as much as 10 percent in after-hours trading, as CNBC said in a Twitter post the company was expected to restate its earnings following an internal review. Valeant slid 11 percent in ordinary trade.
MSCI's All-Country index added 1.3 percent, climbing for the sixth time in seven days, while the Stoxx Europe 600 Index closed 1.7 percent higher. BHP Billiton Ltd. and Rio Tinto Group jumped more than 8 percent for some of the biggest gains in Britain's FTSE 100 Index. 
The U.K. equities gauge added 1.5 percent as the debate over 'Brexit' ratcheted up a notch. The FTSE 100 is the third best performing benchmark this year among 24 developed markets tracked by Bloomberg, helped by the weakening pound. HSBC Holdings Plc fell 0.9 percent after posting a quarterly loss, hurt by a decline in income from lending, higher loan-impairment charges and fair-value losses on its debt.
Shares in Japan and Hong Kong drove the MSCI Asia Pacific Index up 1 percent, its fourth advance in six days.
Currencies
The pound retreated against all 16 major currencies, sliding to its weakest level on a closing basis since March 2009 versus the dollar.
It was down 0.9 percent against the euro, even after Cameron announced a deal concerning welfare curbs Friday, as the announcement from Johnson, a popular political figure in the U.K., overshadowed the agreement. A measure of traders' expectations for price swings in the pound versus the euro over the next six months remained at the highest level since 2011. Cameron said on Saturday that he would fight to keep Britain in the EU, setting June 23 as the date for a referendum.
"Brexit will be one of the biggest events in 2016," Evan Lucas, a markets strategist in Melbourne at IG Ltd., said in an e-mail to clients. "Boris Johnson's decision over the weekend to support the Brexit campaign has caused the pound to move wildly. He is widely believed to be the next leader of the Conservative Party and is highly popular -- his position has a lot of influence."
The yen slipped 0.2 percent to 112.89 per dollar following a two-day rise. Japan's currency remains the best performer this year among major peers, strengthening 6.1 percent as anxiety over the global economic outlook and monetary policy unsettles markets, burnishing its haven appeal. The euro dropped 0.9 percent to $1.1029 Monday.
Russia's ruble led gains in emerging-market currencies, advancing 2.3 percent, while Brazil's real and Colombia's peso strengthened more than 1.3 percent.
Commodities
West Texas Intermediate crude soared 6.2 percent to $31.48 a barrel, and Brent settled 5.1 percent higher at $34.69.
A deal between Russia and Saudi Arabia to see oil output capped at levels that are still close to record highs has sent the market swinging over the past week, with crude-producing nations agreeing to wrap up talks on the freeze by the start of March, according to Russian Energy Minister Alexander Novak. Iraq and Iran should have output capped at a higher level to allow the countries to gain lost market share due to war and sanctions, Nigerian Minister of State for Petroleum Resources Emmanuel Kachikwu told reporters in Doha on Sunday.
"Oil production cuts would be very difficult," said Amrita Sen, chief oil analyst at consulting firm Energy Aspects Ltd. in London. "But OPEC has introduced enough uncertainty that speculators need to think twice about their bearish bets."
Iron ore with 62 percent content rallied 6.2 percent to $51.52 a dry ton on Monday, the highest level since October, according to Metal Bulletin Ltd. The commodity has jumped 18 percent this year after plunging in December to the lowest level in more than six years.
Copper on the London Metal Exchange joined the commodities rally, gaining 1.6 percent, and aluminum, zinc and nickel also climbed. Gold for immediate delivery slipped 1.5 percent in a second day of losses, to $1,208.69 an ounce.
Emerging Markets
The MSCI Emerging Markets Index advanced 1.1 percent to breach its 50-day moving average after surging 4.2 percent last week. Benchmark gauges in Russia, Turkey and Poland gained more than 1 percent.
The Shanghai Composite Index climbed 2.4 percent to its highest level in nearly a month amid speculation that the new chief of China's securities regulator will take measures to bolster the world's second-largest equity market.
Liu Shiyu, previously chairman of Agricultural Bank of China Ltd. and deputy governor at the People's Bank of China before that, will take over as the head of the China Securities Regulatory Commission. He replaces Xiao Gang, who was removed from his post on Saturday in the wake of last summer's $5 trillion rout that reverberated across global financial markets. 
The Bloomberg GCC 200 Index of Gulf stocks advanced 1.2 percent, with shares in Abu Dhabi climbing more than 2 percent. Dubai's DFM General Index rose 2.5 percent, bringing its rally from a Jan. 21 low to above the 20 percent threshold for a bull market.
Bonds
Treasuries fell amid reduced demand for the haven of fixed-income securities. Ten-year U.S. yields rose one basis point, or 0.01 percentage point, to 1.76 percent.
Signs of strain in the euro-area economy fueled speculation that the European Central Bank will respond with additional monetary stimulus next month, supporting government bonds in the region. Securities issued by the nation's higher-deficit nations led gains as composite gauge of services and manufacturing slid to the lowest in more than a year.
Spain's 10-year bond yields decreased five basis points to 1.65 percent, while rates on similar-maturity Italian bonds fell four basis points to 1.52 percent.
The cost of insuring European corporate debt declined, extending last week's retreat. The Markit iTraxx Europe Crossover Index of credit-default swaps on mostly high-yield companies fell as much as 22 basis points to 425 basis points, according to data compiled by Bloomberg.
The risk premium on the Markit CDX North American High Yield Index, a credit-default swaps benchmark tied to the debt of 100 junk-rated companies, fell as much as 13 basis points to 539 basis points.
Before it's here, it's on the Bloomberg Terminal.
LEARN MORE