Umberto Eco, Author of `The Name of the Rose,' Dies at 84
by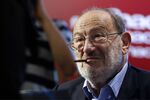 Umberto Eco, the bearded and bifocaled Italian philosopher who became an overnight literary sensation in 1980 with his medieval murder mystery "The Name of the Rose," has died. He was 84.
His family confirmed the death to Italy's la Repubblica newspaper. No cause of death was given.
The debut novel by Eco, a semiotics professor at the University of Bologna, was a historical whodunit that takes place in a Benedictine monastery in 14th-century Italy. A success with high-brow critics and crime aficionados alike, the book was made into a Hollywood movie starring Sean Connery as the Franciscan friar investigating a string of gory murders.
Eco's debut "is no mere detective story; rather, its framework serves as a vehicle for nothing less than a summary of all the author knows about the Middle Ages," wrote Masolino D'Amico, in a review for the Times Literary Supplement. His "rare gift for epitome has a chance to shine forth in this book and his own delight in his task is often infectious."
Umberto Eco was born on Jan. 5, 1932 in Alessandria in the northern region of Piedmont and spent his childhood during World War II in a mountain village. He was educated in schools run by the Salesians, a Roman Catholic order. His surname, given to his grandfather, is an acronym of Ex Caelis Oblatus, Latin for "gift from heaven."
Resisting family pressure to study law, Eco graduated in philosophy at the University of Turin and wrote his thesis on Saint Thomas of Aquinas. It was while studying the 13th-century Dominican priest, one of the Church's foremost theologians, that he stopped believing in God.
"You could say he miraculously cured me of my faith," Eco said in a 2005 interview with Time magazine.
In 1975, Eco was appointed professor at the University of Bologna, which claims to be Europe's oldest institution of higher learning. He kept the post throughout his literary career, which is peppered with references to language and symbols.
In a July 2005 interview with Bloomberg, he was asked about the relationship between his academic work as a theorist and his work as a fiction writer.
"Suppose you are a nuclear physicist. When you make love with your wife, are you thinking of nuclear physics? No. So, when I write a novel, I don't think of my academic problems," he answered.
Though he never repeated the commercial success of his debut, Eco's follow-up novel was a kind of conspiracy-theory intellectual thriller, "Foucalt's Pendulum" (1988). The book has been described as a thinking person's "Da Vinci Code" with its exploration of secret societies such as the Knights Templar and defunct sects such as the Cathars.
Eco's writings cover the gamut from the "Art and Beauty in the Middle Ages" (1986), where he argues that the period was misunderstood as a time of Puritanism, to essays on popular culture such as "The Myth of Superman" (Role of the Reader, 1979), where the superhero is explored within the context of American society as a law enforcer committed to maintaining the status quo rather than improving conditions.
Eco can also be playful, such as when he argues that the greatest discovery in history was the bean, which along with peas and lentils provided the impoverished masses of the Middle Ages with enough protein to better withstand disease and live longer, contributing to a doubling of the European population within a few centuries.
"Everyone will say that the greatest invention of the millennium is television or the microchip," Eco wrote. "We believe that the inventions and the discoveries that have changed our lives depend on complex machines. But the fact is, we are still here because of beans."
Before it's here, it's on the Bloomberg Terminal.
LEARN MORE