business
Wildest Currency Swings Since 2011 Curtail Options Strategies
By
Rising volatility leaves investors seeking alternative hedges

Pound particularly in focus as `Brexit' speculation mounts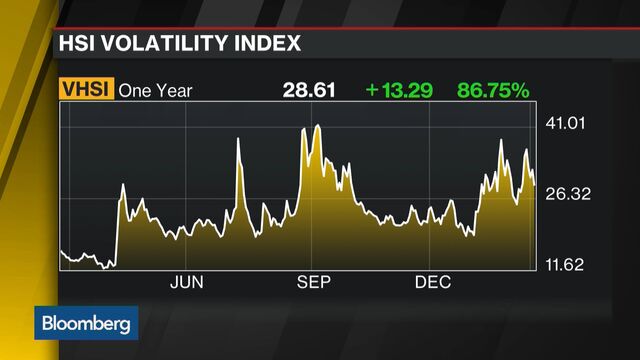 The highest currency-market volatility in more than four years is depriving investors of a cheap way to protect against risks in financial markets -- including Britain's referendum on its membership of the European Union.
A JPMorgan Chase & Co. index of swings in exchange rates averages more this month than at any time since 2011. Because volatility helps determine the price of currency options, they are losing appeal as a way to speculate in foreign-exchange markets, leading money managers to seek less-expensive alternatives.

"There is less appetite to take option positions," said Ugo Lancioni, who manages the currency portfolio for Neuberger Berman in London. "If your view is purely directional, it is easier to trade spot," he said. Neuberger Berman, which oversees $240 billion, according to the firm's website, isn't using currency-option strategies at the moment, Lancioni said.
Global markets have been subject to above-average swings since the start of the year on concern that a slowdown in China will drain momentum from the global economy. The Organization for Economic Cooperation and Development warned Thursday of "substantial" financial stability risks and exchange-rate volatility as advanced economies struggle to compensate for reduced demand from emerging markets.
Currency Volatility
It's a scenario that's already playing out in foreign-exchange trading, and one that makes protecting against future shocks costlier for money managers. The JPMorgan Global FX Volatility Index has averaged 11.44 percent in February, the highest for any month since December 2011 and up from a low of 5.55 percent in July 2014.
BlueBay Asset Management LLP says options, which give a buyer the right to buy or sell an asset at a pre-agreed level, are currently unattractive and is taking positions via forwards instead.
The increase in the cost of currency options, which are measured in volatility, is more significant for some currencies. Long-term implied volatility for the dollar against the yen rose to the highest level in one year on Feb. 11. The increase is less pronounced for euro-dollar options.
"Buying options when volatility is low is attractive as you make gains on both the move on spot and on volatility rising, if you make a correct call," said Mark Dowding, a London-based money manager at BlueBay. "Buying options when volatility is high is unattractive as the options are intrinsically very expensive."
EU Membership
Of all the major currencies tracked by Bloomberg, Britain's pound has the highest implied volatility relative to its range during the past three months. The potential for a vote this year on EU membership pushed the six-month gauge against the dollar to 11.88 percent last week, the highest since 2012.
That means it's more expensive for currency traders to protect against the potential for above-average moves in reaction to the vote -- whether the public decides in favor or against a so-called Brexit. U.K. Prime Minister David Cameron may set the date for a vote as soon as June if he can win concessions to address British concerns about its relationship with the bloc.
The yen has witnessed the biggest increase in six-month implied volatility since the start of the year after the Bank of Japan announced a negative interest rate strategy on Jan. 29. Japan's currency has strengthened 6.5 percent this year against the dollar this year as a flight to haven assets improved its allure. The yen was 0.3 percent stronger at 112.93 per dollar as of 10:20 a.m. in London on Friday.
"Clients are trying to review their hedging policies as the traditional approach based on layered hedging has not been working very well," said Enrico Ferrante, head of structured products at UniCredit SpA in London. "Deciding when to hedge or where to hedge, so long-term versus shorter-term and rolling, has been key."

For some money managers, the turmoil in financial markets since the start of the year means it's too late to turn to options for protection.
"Options can be very powerful if you also have a view on the timing of a move and the scope of volatility," Neuberger Berman's Lancioni said. "This is not often the case for institutional money managers."
(An earlier version of the story was corrected to change the year to 2012 in the ninth paragraph.)
— With assistance by Vassilis Karamanis, and Kristine Aquino
Before it's here, it's on the Bloomberg Terminal.
LEARN MORE