technology
U.S. Stocks Close Little Changed to Cap Best Weekly Gain in 2016
By and
Applied Materials rally bolsters tech, crude weighs on energy

Cost of living excluding food, fuel rose by most since 2011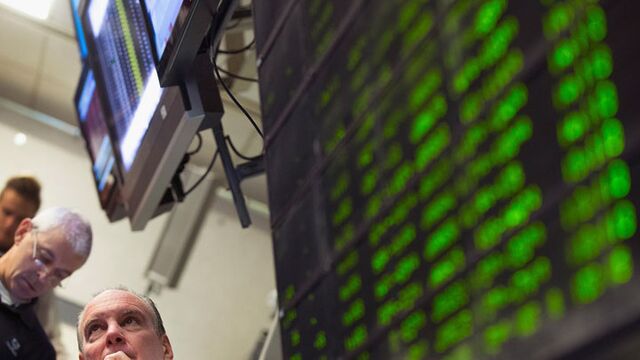 U.S. stocks closed little changed to finish the strongest weekly advance since November, with gains in technology and consumer shares offsetting declines among commodity producers amid a drop in crude oil.
Equities battled back from an opening selloff sparked by the slide in crude, erasing declines by late morning, though struggling to advance all day. Applied Materials Inc.'s 7.1 percent surge buoyed technology shares after it predicted sales this quarter that may beat analysts' estimates. Amazon.com Inc. reversed losses, climbing 1.9 percent to help lead consumer shares higher. Boeing Co. fell for the first time in five days, losing 2.1 percent.
The Standard & Poor's 500 Index lost less than 0.1 percent to 1,917.78 at 4 p.m. in New York, slipping for a second day while still gaining 2.8 percent for the week. The Nasdaq Composite Index, rose 0.4 percent, wiping out an early drop of as much as 0.7 percent. The Dow Jones Industrial Average fell 21.44 points, or 0.1 percent, to 16,391.99. About 7.6 billion shares traded hands on U.S. exchanges, 7 percent below the three-month average.
"We got overextended to the downside last week, we've had a pretty decent bounce off of those oversold levels and now we're at an overbought condition," said Michael James, managing director of equity trading at Wedbush Securities Inc. in Los Angeles. "I'm not surprised to see a pullback yesterday and a continued pullback today."

Investors were able to mostly shrug off oil's biggest drop in a week, with the impact not spreading deeply beyond energy and raw-materials shares, offering further evidence that once-tight market correlations were easing.
West Texas Intermediate crude futures fell for the first time in three days, down 3.7 percent and below $30 a barrel in New York after U.S. crude stockpiles rose to the highest in more than eight decades.
"The oil situation is really just a supply issue," said Rob Lutts, president of Massachusetts-based Cabot Wealth Management Inc. "The demand for energy is still relatively robust globally. I think investors maybe start focusing on that and pulling away from the concept that low oil prices mean global trouble everywhere."
Weekly Rebound
Equities had rallied in near-vertical fashion for three sessions, sending the the S&P 500 up more than 5 percent after the gauge last week reached the lowest level since April 2014, and the Nasdaq Composite Index came within 1 percent of reaching a bear market. The rebound was led by the year's most beaten-down sectors, including banks, technology and retailer shares.
The S&P 500 has cut its 2016 decline nearly in half, though it's still down 10 percent from a May record and 6.2 percent this year amid signs of weakness in the global economy and falling commodity prices.
Investors have been scrutinizing economic data for any signs that slower growth abroad, particularly in China, is spreading. A report today showed the cost of living in the U.S. excluding food and fuel increased in January by the most in more than four years, reflecting broad-based gains that signal companies may be getting some pricing power. Total prices were little changed, depressed by the continued plunge in energy costs.
Rate Bets
Following the data, traders increased the probability for another Fed rate increase this year. Odds of June boost in borrowing costs rose to 24 percent from 17 percent yesterday, and less than 6 percent a week ago. Chances for a December move climbed to 44 percent, up from 37 percent on Thursday.
The Chicago Board Options Exchange Volatility Index fell 5.1 percent Friday to 20.53, down for fifth day, the longest stretch in more than four months. The measure of market turbulence known as the VIX has cut its February climb to less than 2 percent from a high of more than 39 percent on Feb. 11.
Six of the S&P 500's 10 main groups fell, with raw-material companies slumping 1.1 percent, while energy shares slipped 0.4 percent, trimming an earlier 2.2 percent retreat. Consumer discretionary and technology shares rose as much as 0.3 percent. Financial, health-care and industrials were little changed.
Energy stocks extended a two-day loss to 2.1 percent on the selloff in crude. Southwestern Energy Co. tumbled 17 percent, its biggest decline in seven years. Murphy Oil Corp. fell 9.7 percent, on pace for its lowest since 2002, while Devon Energy Corp. extended a four-day rout of nearly 15 percent.
Consumer discretionary shares rose, with travel-related companies Carnival Corp. and Priceline Group Inc. advancing more than 2.3 percent. Nordstrom Inc. slumped 6.7 percent, on track for the most in three months, after holiday results missed analysts' estimates and the retailer gave a weak earnings forecast.
Applied Materials
Applied Materials was the biggest gainer among the tech group, capping its steepest climb since May 2014 and lifting other semiconductor companies amid its outlook. Lam Research Corp. and Qorvo Inc. added at least 2.9 percent. Outside of chips, Autodesk Inc. and Activision Blizzard Inc. climbed more than 4.5 percent.
Real-estate companies were the strongest performers within the financial group, extending gains to a fifth day, the longest since November. Public Storage, Extra Space Storage Inc. and Essex Property Trust Inc. advanced more than 1.9 percent.
An index of U.S. airlines increased to a one-month high as oil prices fell. United Continental Holdings Inc. rose 3.6 percent, up for a fifth day, the most in almost eight months.
With the earnings season drawing to an end, about three-quarters of results from S&P 500 companies exceeded profit projections, while less than half have topped sales forecasts. Analysts estimate earnings at companies in the benchmark fell 4.5 percent in the fourth quarter and will continue to contract in the following two periods.
— With assistance by Sofia Horta E Costa
Before it's here, it's on the Bloomberg Terminal.
LEARN MORE