Six Viacom Directors Opposed by Proxy Firm Over CEO Pay
by
ISS cited equity award that mostly vests even if results miss

Also cites ties between directors and Redstone family members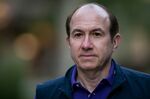 Viacom Inc., under fire from investors over its declining stock price and health concerns about its controlling shareholder Sumner Redstone, faced fresh criticism Friday when a proxy adviser recommended voting against the re-election of six directors.
Institutional Shareholder Services is opposing the six because of an equity award to Chief Executive Officer Philippe Dauman that isn't tied to the company's performance. Investors participating in Viacom's March 14 annual meeting should withhold votes for compensation committee members Blythe J. McGarvie, Charles E. Phillips, Jr., Frederic Salerno, William Schwartz, Deborah Norville and Cristiana Falcone Sorrell, ISS said in a statement.
S&P 500 Media Index 12-Mo. Returns

ISS joins a growing number of critics of New York-based Viacom, including prominent media investor Mario Gabelli. Shares of the company have fallen about 50 percent in the past year amid shrinking ad sales and viewer losses at its cable TV networks. The firm cited a 2015 employment renewal for Dauman with a "special equity award," most of which will vest even if the company, the owner of MTV and Nickelodeon, doesn't meet threshold goals.
"Shareholders may be concerned by the number of directors -- even those independent under ISS' policy -- with ties to the company or the Redstone family," the proxy adviser said in its report. "These ties, along with ongoing concerns over executive compensation and independent oversight at Viacom, call in to question the board's willingness to represent the interests of minority shareholders."
Viacom, in an e-mailed statement, disputed ISS's finding.
"We strongly disagree with the analysis of ISS, which includes inaccuracies in reaching its conclusions," the company said. "The Viacom board pays great attention to its governance and its responsibilities to all stockholders."
Egan-Jones, another proxy adviser, recommended investors vote for all board nominees in a report made before the firm set tougher guidelines for 2016.
The cable-TV and film company was already confronting board turmoil. Dauman became Viacom's chairman this month, succeeding Sumner Redstone, who stepped down after years at the top amid failing health. Dauman's promotion was opposed by Shari Redstone, Viacom's vice-chairman and daughter of the 92-year-old Sumner.
Viacom fell 1.2 percent to $35.28 at the close in New York. The elder Redstone controls about 80 percent of the voting stock at Viacom and CBS Corp. through the closely held family company National Amusements Inc. Three members of the Viacom board, George Abrams, Shari Redstone and Dauman, are also members of the Redstone family trust.
Before it's here, it's on the Bloomberg Terminal.
LEARN MORE