PBOC to Raise Reserve Ratios for Banks That Don't Meet Criteria
Bloomberg News
Banks made a record 2.51 trillion yuan of new loans in January

PBOC says action isn't driven by the speed of lending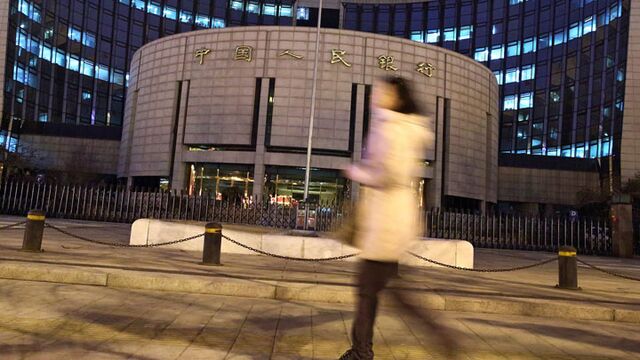 China's central bank said some banks will be forced to lock away more reserves, a move that may contain credit growth after advances by smaller lenders jumped in January.
Some banks no longer meet criteria for preferential reserve requirement ratios and will have those levels increased, the People's Bank of China said Friday in a statement. Prior to the announcement, Bloomberg News reported that some lenders will face a higher ratio as officials seek to limit the risks associated with last month's jump in credit. The PBOC said its action wasn't driven by the speed of lending.
The central bank also said a review it carried out found that some banks which previously didn't meet the criteria for preferential ratios now do so. Adjustments to banks' reserve requirement ratios will be made from Feb. 25, according to the PBOC.
In 2014, the PBOC introduced preferential reserve requirement ratios for banks whose loans to the agricultural sector or to small companies exceeded certain thresholds in relation to their overall lending.
Since then, bad loans at Chinese banks have been piling up as economic growth weakened to the slowest pace in a quarter-century. PBOC data released this week that showed lending jumped to a record in January stoked concerns that financial-system risks may be increasing.
"This reinforces the view that they are not going to repeat the 2009-2010 kind of credit blowout," said Tim Condon, the head of Asian research at ING Groep NV in Singapore. "They want to encourage the flow of financing to the corporate sector and that's consistent with growth objectives, but it's not going to be easy for zombie companies to borrow money and pile up nonperforming loans."
This week's data from the central bank indicates China's four biggest banks weren't the driving force behind last month's credit binge. Small- and medium-sized lenders extended a combined 1.45 trillion yuan ($222 billion) of the new loans in January, accounting for 60 percent of the total increase, the data show. The central bank defines small and mid-sized lenders as those which had less than 2 trillion yuan of assets at the end of 2008.
The collective market share for Industrial & Commercial Bank of China Ltd., China Construction Bank Corp., Agricultural Bank of China Ltd. and Bank of China Ltd. dropped to 20 percent last month from almost 40 percent in December, the figures show. The four banks had set lending targets for this year that were little changed from 2015, separate people with knowledge of the matter said Friday.

Bank shares in Shanghai and Hong Kong fell after news of the targeted RRR increase reported by Bloomberg News. ICBC and Agricultural Bank shares closed at least 1 percent lower in Hong Kong. Bank of Beijing Co. slumped 2.2 percent in Shanghai, while Bank of Nanjing Co. lost 1.3 percent.
While big banks are showing caution, smaller banks "are desperate to lend," said Mu Hua, a Guangzhou-based analyst at GF Securities Co. "I just can't figure out where would they find so many good projects to lend to. That's probably raising some red flag to the central bank."
Still, the PBOC is seeking to lower overall borrowing costs to underpin an economy that expanded at the slowest pace in a quarter century last year. To guide market interest rates lower, the PBOC told banks it can provide cash through its Medium-term Lending Facility at 2.85 percent for six-month loans, down from 3 percent.
"The message from the central bank is clear: Credit expansion should not undermine the reforms to reduce overcapacity," said Iris Pang, senior economist for Greater China at Natixis in Hong Kong.