One Chart That Shows Why Canadians Were Freaking Out About Cauliflowers
Prices are going bananas in the produce aisle. Here's why.
by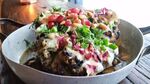 January's monthly report on Canadian inflation may help explain why the Great White North is up in arms about lofty produce prices.
At the beginning of the year, Canadians flocked to social media to express outrage at soaring fruit and vegetable prices. The lower loonie, a factor of easier monetary policy and softening oil prices, made it more expensive to import produce. This, coupled with a supply shortage in the case of cauliflower, made the price spike quite severe.
In January, the price of fresh fruit and vegetables rose a whopping 15.7 percent year-over-year as the Canadian dollar sank to its lowest level relative to the greenback in more than a decade:

Narrowing our focus, fresh vegetable prices rose 18.2 percent year-over-year, according to Statistics Canada, while the "other fresh vegetables index" (which counts cauliflower among its constituents) rose 22.7 percent compared with January 2015, the largest jump since April 2009.
Economists argued that the Bank of Canada's decision to maintain its policy rate at 0.50 percent in January was partially influenced by a desire to avoid a collapse in the currency. If this occurred, it could facilitate a round of potentially destabilizing imported inflation.
"We must be mindful of the risk that a further rapid depreciation could push overall inflation higher relatively quickly," said Bank of Canada Governor Stephen Poloz at the Jan. 20 press conference. "Even if this is temporary, it might influence inflation expectations."
However, the body of evidence from survey results and market-based measures of inflation compensation suggests that, if anything, the Bank of Canada ought to be worried about inflation expectations slipping too far below its target, rather than above it. 

As for pricey cauliflower, there have been a fair number of outsized, idiosyncratic price jumps of Canadian food products over the last few years.
Interestingly, Canadians have shown more angst (on social media, at least) about the spike in fruit and vegetable prices than they did about rampant "baconflation" in 2014, linked to the PEDv pig virus, which saw prices rise more than 25 percent year-over-year.
Before it's here, it's on the Bloomberg Terminal.
LEARN MORE