NYSE Embarks on High-Stakes Technology Shift for its Exchanges
by
Stock exchange is moving its markets on to one platform

Technology upgrades caused trading problems at LSE and CBOE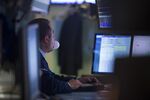 On Monday, the New York Stock Exchange will begin to discover whether its bet on new technology has paid off.
The company that symbolizes Wall Street to millions of Americans is moving its markets on to a single software platform called Pillar, a move that its owner Intercontinental Exchange Inc. hopes will allow it to shed its image of having clunky, out-of-date technology.
The migration to new matching engines -- the systems that connect buyers with sellers -- is not without risk. When London Stock Exchange Group Plc moved its Turquoise market on to a new platform in 2010, it struggled to supply customers with the correct prices with which to start trading. Turquoise also suffered from a two-hour outage within its first month on the new technology.
CBOE Holdings Inc. had to shut the Chicago Board Options Exchange for more than three hours in 2013 when work to prepare its systems for extended trading hours triggered an existing flaw in its software code.
"Replacing your matching engine is not something to be taken lightly," said Larry Tabb, founder and chief executive officer of research firm Tabb Group LLC. "If it doesn't work appropriately, you're basically blown out of the water."
Taking its Time
NYSE will take its time to move all its markets on to Pillar. NYSE Arca begins the migration on Monday, a delay from the original launch date in the third quarter of 2015. The other markets owned by NYSE Group Inc., including the New York Stock Exchange, won't get the technology until much later with the final market probably adopting Pillar in 2017.
The slow approach shows the firm's caution after it had to halt trading on NYSE for more than three hours last July. A botched technology upgrade was responsible for that outage.
"It will take a while to put everything on Pillar," ICE's chief executive officer, Jeff Sprecher, said on the company's fourth-quarter earnings call. "We're going to be relatively slow and deliberate."
NYSE needs the upgrade to work. Its equity exchanges each run on different systems, unlike its main competitors -- Bats Global Markets Inc. and Nasdaq Inc. -- which use a single platform for all of their venues.
'Much Needed'
"This is a much-needed upgrade," said Rich Repetto, an exchange analyst at Sandler O'Neill Partners LP. "Trading today is all about automation, and there are competitors in the space, so you have to have tech that's on par or better than your peers."
When ICE acquired NYSE, it decided that the firm's technology was outdated and slow and that its matching engine needed replacing. It bought a trading-software developer called Algo Technologies Ltd., Bloomberg News reported in 2014. Algo Technologies claimed to have the industry's fastest matching engine at that time.
Slow Going
By contrast, Bats and Nasdaq are widely recognized for their technology. Jennifer Hadiaris, a U.S. market-structure analyst at Deutsche Bank AG, recently praised Bats's recent migration onto its own platform of two exchanges it acquired through the 2014 purchase of Direct Edge. NYSE's adoption of a single technology platform has been slower-moving, Hadiaris wrote in a client note in December.
As opposed to the Bats shift, "when you think about other exchanges bringing together platforms, the first word that comes to our mind is clunky," the analyst wrote. "When you think about legacy exchange platforms and how difficult it has sometimes been to bring them together as exchanges have merged over time, more nimble platforms certainly stand out."
Sara Cohen, a spokeswoman for NYSE Group, declined to comment on the switch to Pillar. NYSE declined to make an executive available for an interview about the new platform.
Before it's here, it's on the Bloomberg Terminal.
LEARN MORE