New York Grocer Fairway on the Brink of Default as Losses Mount
by , , and
Gourmet chain is suffering from debt-fueled overexpansion

Moody's warns of April covenant breach, downgrades term loan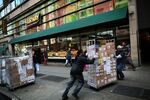 Fairway Group Holdings Corp., the New York gourmet grocery chain that once had ambitions of a nationwide expansion, is approaching default after years of red ink.
After gorging on debt to finance its growth plans, the company is now at risk of breaching its credit covenants when its fiscal quarter ends on April 3, according to a Wednesday report by Moody's Investors Service analyst Mickey Chadha. And even if Fairway gets a reprieve from its obligations, its capital structure remains unsustainable, Chadha wrote.
To bring its operations in line, analysts are advising the company to halt its plans to expand beyond its New York base. The chain has already pulled out of leases in lower Manhattan and the new Hudson Yards complex under construction on Manhattan's Far West Side. Of its 15 stores, seven are in Manhattan, Brooklyn and Queens, with the rest outside the city in places such as Pelham Manor, New York, and Paramus, New Jersey.
The company hasn't done enough to communicate its offerings to shoppers who may not be familiar with it, said Mike Paglia, director of retail insights at consulting firm Kantar Retail. Paglia believes Fairway should shutter some stores outside of New York.
"They're in a special class of retailers," he said. "It's really sad to see how things have unfolded."  
Tough Competition
Fairway, which is known for its high-quality produce and private brands, in many ways is a victim of timing. It went public as national chains like Whole Foods Market Inc. and Trader Joe's started aggressively competing in New York City. In addition, stores like Costco Wholesale Corp. began selling similar high-end products at lower prices.
"The capacity for them to compete with lower prices and gain traffic is limited, obviously, if they're up against a Whole Foods," Chadha said in an interview. "All the other players around them were getting promotional."
Fairway has lost customers to the competition, which is evident in its string of declining same-store sales, Chadha said. The grocer has yet to report a profitable quarter since its initial public offering three years ago. It posted a $9.7 million loss for the three months ended Dec. 27 and said it was seeking additional financing.
Delist Risk
With money-losing stores and mounting competition, the grocer has received two warnings about being delisted from the Nasdaq Stock Market for failing to maintain a minimum market capitalization of $15 million for three consecutive business days. Earlier this month, the company revealed in a filing that its auditor questioned whether it can continue as a going concern.
Moody's downgraded Fairway's $267 million senior secured term loan and its revolving credit facility one notch to Caa2, eight levels below investment grade. The term loan was quoted at a new low of 79.5 cents on the dollar on Tuesday, down from a high of 90.6 cents on Dec. 8, according to data compiled by Bloomberg
Meanwhile, the company's stock price has plummeted 93 percent in the last year. The shares closed at about 40 cents on Thursday.

Representatives for Fairway didn't respond to telephone and e-mail messages seeking comment.
The company's original store at 74th and Broadway on Manhattan's Upper West Side may be cramped and crowded, but it draws shoppers looking for both unusual items and a respite from often-dreary and overpriced options. Fairway and two other storied food purveyors just a few blocks away, Zabar's and Citarella, form a sort of gourmet corridor in the heart of the neighborhood known to millions of Americans through the "Seinfeld" television series.
The company's plan was to bring that experience to other parts of the New York metropolitan area and eventually spread across the country. Now those heady days are gone. For the time being, Fairway needs to halt its expansion program and concentrate on fixing its financials, Chadha said.
"When you're concerned about making the next interest payment," he said, "it's hard to concentrate on the operating portion of your business."
Before it's here, it's on the Bloomberg Terminal.
LEARN MORE