Mexico Finance Minister Warns Investors to Look Out for More
by and
High-frequency speculation is a target of intervention

Mexico raised interest rates, started discretionary USD sales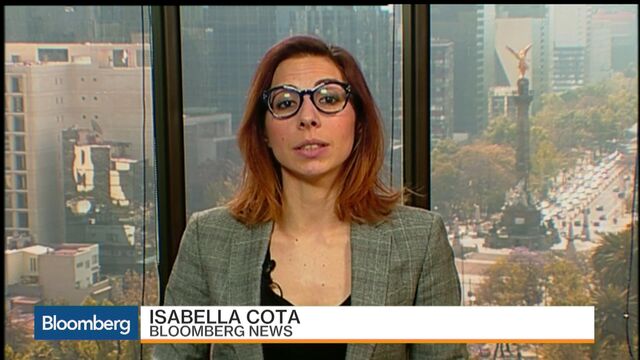 Mexican Finance Minister Luis Videgaray told investors to expect the unexpected after this week's unprecedented steps to save the peso from the world's worst rout.
Surprise moves such as the ability to sell dollars in the spot market with no advance notice and raise interest rates whenever needed are a key element to counter speculators who pushed the peso to a record low this month, Videgaray said in an interview Friday. Stemming declines in the currency is key to keeping inflation expectations under control, protecting Mexico's consumers and preserving economic growth, he said.
"We have reserves and a full set of tools on the monetary and currency side to intervene if necessary," he said. "And that's an important message we wanted to convey to the market. And it seems the market has listened."

The currency strengthened as much as 0.8 percent after the minister's comments, and has climbed 3.7 percent since Tuesday, the day before Videgaray and central bank Governor Agustin Carstens announced a surprise increase to the benchmark interest rate and plans to sell dollars directly to banks to support the currency. A plunge in global oil prices and a slowdown in demand for exports has weighed on Mexico's peso, which has weakened 18 percent in the past 12 months and it's still down 5.5 percent this year, the worst performance among the world's most-traded currencies.
Videgaray said one of the effects of increasing the central bank's overnight rate by half a percentage point to 3.75 percent was to make it "a little bit more expensive to short the peso" by raising the cost to borrow the currency. While the central bank said the decision isn't the start of a tightening cycle, some analysts have speculated that Banco de Mexico may raise rates more if the surprise measures don't staunch the peso's decline.
The currency commission, a group comprised of central bank and ministry officials, will decide when to intervene with discretionary dollar sales, Videgaray said.
Videgaray said he's determined to protect Mexico's domestic economy from the effects of a weaker currency, and market intervention will be aimed at preventing inflation from eroding purchasing power. Consumer prices climbed 2.61 percent in January from a year earlier, faster than December's 2.13 percent rate but still below the central bank's target.
"We want to make sure that we prevent high-frequency speculation in a short period of time to devalue the currency away from fundamentals," Videgaray said. "We did something very important from our economic policy framework, which is to keep inflation low and to allow for Mexican demand to continue to grow."
Analysts had begun to voice concern about the weaker currency's impact on consumer prices. Goldman Sachs Group Inc. warned this month that the currency's "relentless" tumble risked sparking inflation.
Videgaray also announced Wednesday that the government will cut spending this year by 132.3 billion pesos ($7.28 billion), with 100 billion pesos of the cut coming from state-owned oil producer Petroleos Mexicanos.
Currency Hedge
The Mexican peso is the most liquid and easily tradeable emerging-market currency and is cheap to borrow relative to its peers, making it a favorite for investors looking to hedge their risk to all developing economies. The new intervention mechanism may make its use as a hedge less appealing, according to Bank of Nova Scotia.
Switching from a rules-based to a rules-free program "reduces the risk for the peso to be used as a proxy hedge for absolutely all the problems in the world," said Eduardo Suarez, the firm's Latin America strategist. Speculators "run the risk that Banxico will intervene, and you won't know with how much, causing a nervous market reaction that could ruin your trade."
Before it's here, it's on the Bloomberg Terminal.
LEARN MORE