Lagarde's Ease in Winning New IMF Term Belies Harder Road
By and
Challenges include lackluster global economy, Greece, Ukraine

Lagarde has repeatedly warned of `new mediocre' for world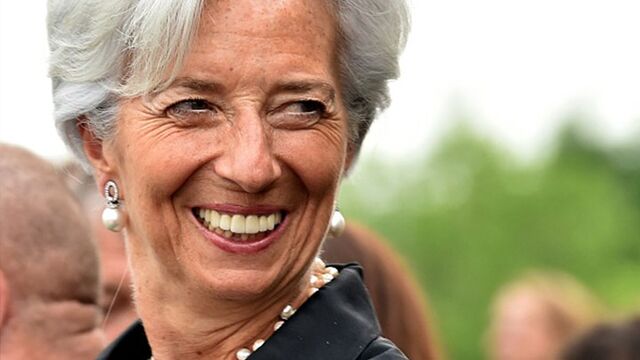 For Christine Lagarde, winning a second term heading the IMF was the easy part. Now come challenges ranging from a lackluster global recovery to dealing with financial hot spots including Greece and Ukraine.
Lagarde, 60, was reappointed "by consensus" Friday to a second five-year term as managing director of the International Monetary Fund, the IMF said in a statement. Her tenure will run through July 2021. The fund's executive board, which represents 188 member countries, said last week that no one else was nominated to oppose her as head of the lender.
Getting policy makers to step up efforts to help the global economy may prove a tougher sell. Lagarde has repeatedly warned that the world may be on the verge of a "new mediocre" of underwhelming growth unless officials take stronger action. The confirmation removes any doubt about Lagarde's status as she heads to Shanghai next week for Group of 20 discussions expected to touch on this year's wave of market turmoil.
"The global economy is undergoing a number of important transitions and we are focused on helping our membership navigate them successfully," Lagarde said in a statement on Friday. "The fund remains committed to its fundamental goal of helping to ensure global economic and financial stability through international cooperation."
Speaking to reporters in Washington after the announcement, Lagarde said that global coordination is needed now, especially to address the spillovers from monetary policies among economies, though the situation isn't as dire as in 2009.
Besides the world growth challenge, Lagarde will face tough decisions on whether to offer Greece a new bailout, and to release the next loan installment to Ukraine amid renewed concerns about corruption. The IMF may also receive fresh demands for its resources from commodity-dependent nations around the world suffering from a bust in prices.
Replacing Strauss-Kahn
She took over as head of the IMF in 2011 when Dominique Strauss-Kahn resigned after a hotel maid accused him of sexual assault. Prosecutors dropped a criminal case amid inconsistencies in her testimony; Strauss-Kahn reached an undisclosed civil settlement with the woman.
Lagarde is the first woman to lead the IMF, which was conceived during World War II to coordinate international monetary policy and lend to countries facing balance-of-payments shortfalls. She has sought to give emerging markets such as China more of a voice at the IMF, while putting greater emphasis on issues including climate change and income and gender inequality, helping to broaden the fund's image beyond its reputation as an advocate of budget cuts and policies to liberalize countries' economies.
"During turbulent times in the global economy, Ms. Lagarde strengthened the fund's ability to support its members with policy advice, capacity building, and financing," Aleksei Mozhin, dean of the IMF's executive board, said in a statement Friday. "She has also played a critical role in revitalizing the fund's relations with its global membership, including its emerging market and developing members."
She easily won a second term despite legal troubles in France. A French court said in December she will stand trial for "negligence" in relation to a settlement the French government reached with businessman Bernard Tapie during her time as finance minister. Lagarde has repeatedly stated her innocence, and she promised to appeal the decision to try her.