Exxon Fails to Replace Production for First Time in 22 Years
by
Crucial measure of future pumping ability is closely watched

U.S. natural gas reserves reduced in response to low prices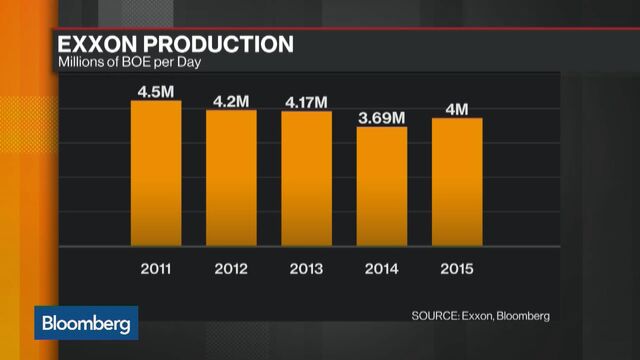 Exxon Mobil Corp. failed to replace all of the oil and natural gas it pumped last year with new discoveries and acquisitions for the first time in more than two decades.
Exxon's so-called reserve-replacement ratio fell to 67 percent in 2015, the Irving, Texas-based company said in a statement on Friday. Prior to that, the world's largest oil explorer by market value had achieved ratios of 100 percent or higher for 21 consecutive years.
Exxon held reserves equivalent to 24.8 billion barrels of crude as of Dec. 31, enough to continue current rates of production for 16 years, according to the statement. That is down from 17.4 years or reserves life at the end of 2014, according to data compiled by Bloomberg.
The company added reserves last year in Abu Dhabi, Canada, Kazakhstan and Angola. In the U.S., gas reserves declined by the equivalent of 834 million barrels as tumbling prices for the furnace and power-plant fuel made some fields unprofitable to drill.
The gas reserves removed from Exxon's books probably will be drilled at some point in the future when prices are higher, according to the statement.
The reserve-replacement ratio is a key measure for oil producers and the investors and analysts who follow them: it's one indicator of a company's long-term ability to maintain or expand crude and gas output. The calculation involves adding together all the new reserves acquired, discovered or achieved through technological innovations and dividing that by the amount of oil and gas pumped that year.
Before it's here, it's on the Bloomberg Terminal.
LEARN MORE