Anti-'Brexit' Deal Talks Grind On as Cameron Meets Obstacles
by , , and
U.K. proposes 13-year brake on welfare payments for migrants

Prime minister warns he needs deal he can sell at referendum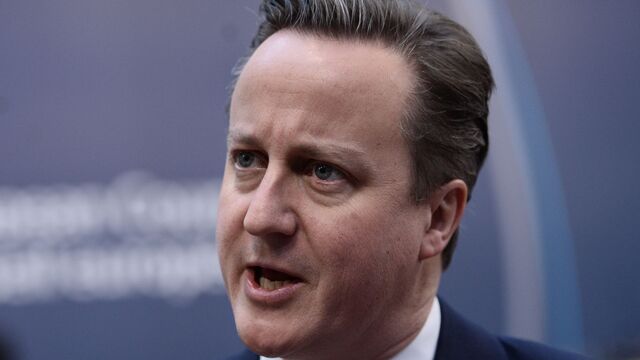 David Cameron's negotiations with fellow European Union leaders ground on into a second day as he pleaded for a deal on the U.K.'s membership of the bloc that he can sell to British voters.
QuickTake Will Britain Leave the EU?
The prime minister ran into resistance from eastern European states over demands for more leeway to impose welfare curbs on non-British citizens that took some participants by surprise. France led a group of euro-area nations that objected to his plans to carve out an exclusion from the currency area aimed at protecting the financial industry in the City of London.
Cameron warned Thursday that he needed the help of his 27 EU counterparts to win a referendum on staying inside the bloc, according to three European officials with knowledge of the meeting who asked not to be named because it wasn't public. With no breakthrough in sight, one-on-one talks carried on through the night and EU officials were braced for the negotiations to stretch into Friday night and perhaps the weekend. Cameron returned to the talks venue for the next round just before 11 a.m, saying he'd left at 5 a.m.
"We've made some progress, but there's still no deal," he told reporters. "I'd only do a deal if we get what Britain needs, so we're going to get back in there, we're going to do some more work and I'll do everything I can." The BBC cited the premier as saying he was happy to stay until Sunday.

The latest opinion poll, by TNS, found 39 percent of respondents supporting leaving the bloc with 36 percent backing staying in, and 25 percent undecided once those who are unlikely to vote are stripped out. TNS questioned 1,120 adults online from Feb. 11 to Feb. 15 with a 3 percentage-point margin of error. Most other online polls recently have also shown the result too close to call, though less frequent telephone surveys have shown "Remain" clearly ahead.
The pound fell, dropping 0.5 percent to $1.4272 as of 1:56 p.m. Brussels time, extending this week's loss to 1.6 percent. Expectations for price swings in the pound against the euro over the next six months climbed to the highest since 2011.
In his opening contribution to the debate Thursday, Cameron told his counterparts that a draft accord published at the start of February had gone down badly at home, according to one of the officials. He told leaders he was confident he could win the referendum on Britain's EU membership, which he's seeking to hold in June, but only if they granted him what he was requesting without watering down the terms, the officials said.
Emergency Brake
The prime minister called for an extension of a planned "emergency brake" on welfare payments -- the centerpiece of his plan to reduce EU migration into the U.K. -- to a total of 13 years: an initial suspension of seven years that could be lengthened twice by another three years each, according to the officials. Leaders from eastern European nations said they would accept an emergency brake lasting no more than five years. 
Cameron's move to restrict social payments is aimed at discouraging migrants from taking advantage of a welfare system more generous than many other EU countries provide. Immigration is the most important concern for voters and the issue is at the core of his Conservative Party's manifesto.
The reason for the focus on curbing immigration was underscored by data this week that showed the number of people from other EU countries employed in the U.K. rose to 2.04 million at the end of 2015, compared with 1.23 million five years earlier.
"Cameron is the one setting the bar," Danish Prime Minister Lars Lokke Rasmussen, one of the British premier's closest allies in Europe, told reporters Friday morning. "He's the one who needs to jump over it."
The Danish premier said there was also a dispute over Cameron's plans to vary the level of welfare benefits paid to children living outside Britain of EU migrants who are working in the U.K.
Even as the talks became bogged down in the detail, other leaders repeated their desire to reach an agreement to keep the bloc intact.
"Estonia has gotten a lot from the EU and what's on the table is a very, very important thing for us," Estonian Prime Minister Taavi Roivas told reporters. "I'm 100% sure that if Estonia needs Great Britain, Great Britain will be there for us."
BAE Systems Plc Chairman Roger Carr said in a Bloomberg Television interview that while a Brexit wouldn't necessarily be a catastrophe, it would risk a "potential domino effect."
Before it's here, it's on the Bloomberg Terminal.
LEARN MORE