Cameron Moves Closer to EU Deal as Deadlock Over Welfare Eases
by , , and
Maltese premier sees acceptance of 7-year benefits freeze

Pound volatility rises amid uncertainty over referendum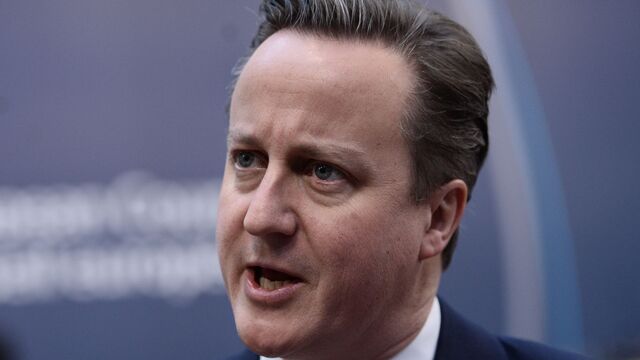 Prime Minister David Cameron moved closer to a deal with fellow European Union leaders on new terms for the U.K.'s membership in the bloc, as they haggled over the final details of welfare curbs for migrants and safeguards for countries outside the euro.
"We are moving in the right direction," Maltese Prime Minister Joseph Muscat said in an interview as the 28 heads of government prepared for dinner after an extended second day of negotiations in Brussels Friday. "In a few minutes we will need to agree, all of us, on a text that is a compromise. No one will agree with each and every part of it, but I think that it is the best possible text that can issue some sort of convergence."
Earlier Friday, the talks appeared to be getting bogged down as delegations were asked to book rooms for an extra night to allow for further deliberations, according to two European officials who asked not to be named because the information wasn't public. But the negotiations gained in urgency as all sides acknowledged their shared interest in helping Cameron procure a deal he can sell to voters ahead of an in-out referendum as soon as June.
Czech Prime Minister Bohuslav Sobotka said in a tweet that a draft agreement with the U.K. was finally on its way, and Muscat said he was optimistic a deal could be agreed at the dinner, which started after 9 p.m. in Brussels. Most countries were "gravitating towards accepting" the U.K.'s demand for a seven-year "emergency-brake" period allowing it to impose welfare curbs on other EU citizens working in Britain, he said.
That was less than the 13 years Cameron sought at the start of the summit Thursday, but longer than the 5-year period originally proposed by EU President Donald Tusk and favored by eastern EU states. A more difficult problem was how to calculate planned reductions in welfare benefits for children of migrants living outside Britain.
"This is the reason why everything is being delayed today," Polish Deputy Foreign Minister Konrad Szymanski told reporters. "This is not just about tension between the U.K. and central Europe, it's also about tension among other groups of countries." Poland has the largest number of EU migrants in Britain.
Meanwhile, France led a group of euro-zone nations that objected to Cameron's plans to carve out an exclusion from the currency area aimed at protecting the financial industry in the City of London.
Amid the sparring, the prime minister's office said that a meeting of Cameron's cabinet which had been tentatively scheduled for his return to London would not take place on Friday night. It could now take place on Saturday if a deal is reached.
Sterling Pressured
The pound headed for its biggest weekly decline in a month against the dollar Friday as expectations for price swings in sterling against the euro over the next six months climbed to the highest since 2011. The currency dropped 1 percent on the week to $1.4353 at 8:40 p.m. Brussels time.
Cameron's move to restrict social payments is aimed at discouraging migrants from taking advantage of a welfare system more generous than many other EU countries provide. Immigration is the most important concern for voters and the issue is at the core of his Conservative Party's manifesto.
The reason for the focus on curbing immigration was underscored by data this week that showed the number of people from other EU countries employed in the U.K. rose to 2.04 million at the end of 2015, compared with 1.23 million five years earlier.
Before it's here, it's on the Bloomberg Terminal.
LEARN MORE