Arsenal Star Mathieu Flamini Buys Stake in U.S. Green Chemical Firm
by
Midfielder's GFBiochemicals buys user of levulinic acid

Plant-based chemical to go into plastics, perfumes, detergent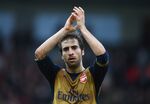 Mathieu Flamini, a midfielder for the London soccer club Arsenal, is stepping up his mission to end the use of fossil fuels in household goods such as plastics and perfumes by purchasing part of U.S. clean chemical producer Segetis Inc.
GFBiochemicals Ltd., co-founded eight years ago by Flamini and his business partner Pasquale Granata, bought the production facilities and intellectual property rights of Segetis, which is based in Minnesota, according to a statement Friday. Terms weren't disclosed.
"Climate change is the biggest issue of our time and now more than ever urgent action is required," Flamini said in the statement. "We founded GFBiochemicals with an ambition to find sustainable alternatives to oil-based products."
GFBiochemicals' plant in Caserta, Italy, about 28 miles (45 kilometers) outside Naples, is the largest producer of levulinic acid, a chemical derived from plants that's used to make biofuels, plastics and food preservatives. Segetis uses the chemical in plastics, perfumes and detergents.
Growing Demand
A growing number of companies, including automaker Toyota Motor Corp., are using plastics made with green chemicals to reduce their exposure to volatile commodity prices and curb their impact on the environment.
GFBiochemicals, based in Milan, is seeking to more than double production of levulinic acid to 10,000 metric tons a year by 2017, a spokesman said.
Segetis has attracted tens of millions of dollars of investment since it was founded in 2007, including cash from Saudi Basic Industries Corp., Khosla Ventures LLC, Malaysia-based Permodalan Nasional Bhd., and Malaysian Life Sciences Capital Fund LP, according to its website.
"The company will continue on a development path based on both organic growth via the creation of high-value partnership with major companies, as well as the potential for further acquisitions of levulinic acid's derivative technologies," said Marcel van Berkel, chief commercial officer of GFBiochemicals.
Before it's here, it's on the Bloomberg Terminal.
LEARN MORE