Photographer: Jason Alden/Bloomberg
VW Risks Damaging 'Made in Germany' Label, Vice Chancellor Says
by and
German vice chancellor upbraids company for diesel scandal

Cheating scandal risks `collective damage' to German industry
German Vice Chancellor Sigmar Gabriel warned that Volkswagen AG's diesel-emissions cheating scandal risks tarnishing the country's global brand, which has helped companies offset higher labor costs by charging more for upscale products.
"Industrial production stands for quality that one can trust. These champions project a positive image of Germany that's good for all of us," Gabriel, who is also the country's economy minister, said in a speech Thursday in Berlin. "And when it doesn't work, as currently is the case with VW, then it risks causing collective damage to the 'Made in Germany' label that goes beyond the company."
The German government has generally downplayed any potential broader impact of the five-month-old crisis, which exploded into the public after the carmaker admitted to rigging a line of diesel engines to cheat on emissions standards. The scandal has weighed on VW, with its market share in Europe slipping in January for a fifth consecutive month.
Gabriel's comments contrast with those of German Transport Minister Alexander Dobrindt, who an hour before in parliament lauded the Wolfsburg-based company's cooperation with regulators and said its recall effort was proceeding smoothly. Green Party lawmakers had called for a debate in which they lambasted the government for its handling of the fallout.
Dobrindt's upbeat comments come as fixes to vehicles get off to a slow start. Volkswagen on Thursday said it had installed new software in 4,300 autos in Germany, to ensure that they meet European Union emissions standards, out of about 2.4 million affected vehicles. Across Europe, some 8.5 million cars need fixing.
Bild am Sonntag reported on Sunday that former VW Chief Executive Officer Martin Winterkorn had been notified as early as May of 2014 that U.S. authorities were poised to inspect the company's cars for so-called defeat devices. The company has declined to comment on the German newspaper's story.
Watch Next: The Long Rise and Rapid Fall of Volkswagen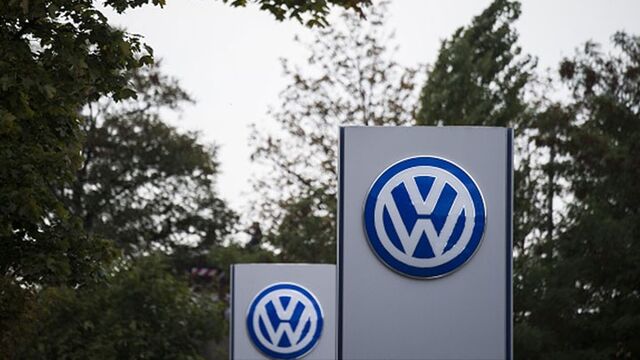 Before it's here, it's on the Bloomberg Terminal.
LEARN MORE