Beauty
The One Crucial Spot You Are Leaving Out of Your Skincare Regimen
If you don't protect this, no matter what you do to save your face, your age will show through.
By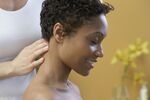 When it comes to anti-aging, we've got the chin to the forehead covered. Sunscreen, eye cream, night cream, repeat. (Don't forget to drink.) Meanwhile, the neck, which takes a similar beating from age and the elements, is left out to dry. Literally.
This often goes on until the neck starts resembling a bullfrog or rooster's gobble—then people freak out. "It's one of the most common complaints in my office—people develop a pouch, sagging or spots on their neck and feel like it makes them look old and overweight," says NYC-based dermatologist Whitney Bowe, M.D. And they're right—even if your face looks great, a wrinkled, droopy neck is a dead giveaway it's not your 23rd birthday. The good news is that you don't need a neck-lift to make a dramatic change, thanks to a slew of new creams and noninvasive treatments that tighten and tone all shapes of gobblers. (Proof they work: Those "Lifestyle Lift" folks went bankrupt last year.) And if your neck still looks taut and smooth now, there are a few key preventative tips to keep it that way. 
Protect Your Neck

Wear SPF: No surprise here—sunscreen is the most effective method for warding off wrinkles, sagging, and spots. (Instead of swiping leftover face SPF onto your neck, try placing three dots on your neck and blending them first for even coverage, says NYC-based dermatologist Ellen Marmur, M.D.)
Keep Posture in Mind: Yikes—we've entered the age of "tech neck." "When you bend your neck down all the time to look at your phone, horizontal lines can develop," says Marmur. They can also form if you sleep in the fetal position with your neck tucked under. Try holding your phone up closer to your eyes during the day, and an ergonomic pillow can keep your neck from dropping down at night.
Manage Light Repairs: Exfoliating a few days a week will nix dead skin cells so moisturizers and preventative neck creams can sink in better. (Try Dr. Dennis Gross Skincare Ferulic + Retinol Fortifying Neck Emulsion to strengthen the neck skin barrier.)
Get Rid of Wrinkles

When skin laxity breaks down, shriveled, crepey skin or "tree ring" lines can develop. (It's more common in women, since men tend to have thicker skin.) Such creams as Clark's Botanicals Age-Defying Neck Cream can fill in more subtle lines, but for more dramatic smoothing, an in-office resurfacing laser (such as the Fraxel) is your best friend, says Bowe. The laser creates thousands of microscopic wounds in the skin, which stimulate cell turnover and the production of collagen to tighten and smooth lines. Fraxel sessions cost around $1,000 each, and you'll likely need three or more treatments. The downtime isn't bad—expect some slight redness for a few days, plus some flaking afterwards.
Stop the Sagging

The worst part about loose jowls or a double chin is that it's often genetic, so even if you boast a six-pack, the pouch stays. (Men are prone to this kind of excess skin, says Bowe, which can be extra painful/unflattering if you wear a collar and tie every day.) A topical lifting cream such as StriVectin TL Advanced Tightening Neck Cream can help tone and tighten, but if you need the big guns, ask for Kybella, a new FDA- approved injectable acid that dissolves pockets of fat to create a more chiseled neck and chin. "Contouring the area with Kybella can make it look like you've lost 20 pounds," says Bowe. Two to four treatments are usually needed (at $1200 a pop), but the effects last for good. Start this one while you can still wear a scarf—Kybella leaves behind noticeable neck swelling a week or two after the procedure. If you can't deal with the downtime, Thermage (which uses radio frequency) and Ultherapy (ultrasound therapy) devices deliver heat to sculpt sagging tissue, though the tradeoff for no downtime is a little more pain.
Even Out Tone
Brown or rust-colored pigmentation tends to pop up on the sides of the neck over time, where the sun hits directly and there's no protective shadow from your face. (There's even a term for that mottled look: poikiloderma.) Skin brightening treatments (such as NIA 24 Sun Damage Repair for Decolletage and Hands) can minimize some photo damage, but if they're not effective, dermatologists will often use intense pulse light "IPL" treatments (3-6 sessions at $500 each) in the office, which do a better job of lifting freckles and dark spots, says Marmur. IPLs don't work as well on darker skin, in which case a chemical peel ($500) is usually the best route. The downtime on both of these treatments varies, from some temporary skin darkening with IPL to redness and swelling after a chemical peels for a few days.

Before it's here, it's on the Bloomberg Terminal.
LEARN MORE