The Movie Chain Hoping to Steal Netflix Customers With Pizza and Beer
Alamo Drafthouse is rethinking cinemas in a bid to get movie fans out of the house.
By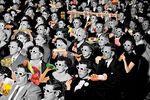 Filmmaker Robert Rodriguez first heard about the Alamo Drafthouse Cinema at a party in Austin in the late 1990s when he met its founders, Tim and Karrie League. The young couple had just arrived in Texas, fresh off their initial foray into the movie theater business. A few years earlier, they'd quit their post-college jobs and bought a single-screen art-house cinema in Bakersfield, Calif., which they swiftly and lovingly ran into the ground. Lessons learned, they were ready to try again. In 1997 the Leagues opened the original Drafthouse in Austin in an erstwhile parking garage. The hook: Customers could order food and drinks at their seats while watching second-run movies, foreign films, and classics.
In the years that followed, Rodriguez watched as Drafthouse expanded across town, opening four more venues, bulking up its menu, and adding first-run releases. The city's indie film scene was booming, stocked by a steady stream of graduates from the University of Texas at Austin's renowned film school and invigorated by recent, locally shot hits such as Richard Linklater's Dazed and Confused. The Drafthouse fast won favor with the city's fussy denizens. In between the standard action flicks and rom-coms, it let its inner film geek run wild. It staged all-day marathons of genre films hosted by directors such as Quentin Tarantino. It paired movies with specialty tasting menus, like Lawrence of Arabia with a Bedouin feast. It screened Jaws for an audience of people floating on inner tubes on a nearby lake.
Rodriguez grew into a devout fan. To this day, he won't see a movie in a theater anywhere else. "They really care about cinema," says the El Mariachi and Spy Kids director. "They know how to make a night of it. Once you start going to the Drafthouse, you get really spoiled."

Drafthouse is now aiming for devotees far beyond the realm of Austin's film hounds. The company has begun expanding nationally, granting franchises from Omaha to Kalamazoo, Mich. In December a Drafthouse opened in San Francisco; later this year one will arrive in Brooklyn, N.Y. The company has 22 theaters and wants to have 50 by 2018. "By the end of next year," Tim League says, "we'll have a million people a month coming to our theaters, and they're all cinephiles."
He says the company's plan is to amass what he calls a "national base" of moviegoers who are loyal to the brand and eager to buy whatever else Drafthouse offers from its expanding business portfolio. In addition to the theaters, it operates Mondo, an online retail outlet that sells movie-inspired artwork and apparel. (A Nightmare on Elm Street cardigan goes for $75.) It hosts Austin's Fantastic Fest, an annual film festival heavy on horror and sci-fi. It publishes Birth.Movies.Death, an online entertainment magazine. And it runs Drafthouse Films, which buys and distributes indie movies.
The food-and-booze-and-movie concept is hardly new. About 20 years ago, the Leagues spent their honeymoon in Portland, Ore., scouting out McMenamins, a theater chain that had the same basic framework. ("Ranks among one of the least romantic honeymoons ever," League says.) But after years of experimentation and refinement, Drafthouse has developed what he believes is a formula capable of reliably jolting swaddled American movie lovers out of their home-entertainment stupor.
It won't be easy. Although movie revenue is growing overseas, the domestic market has shown signs of malaise. In 2014 the U.S. and Canadian box office generated $10.4 billion, according to the Motion Picture Association of America, down 5 percent from 2013. Everywhere you look, futurists predict that movie theaters, like compact discs and newspapers, will soon die off, buried by a growing onslaught of cheap, digital home-entertainment options. At the same time, Drafthouse's advancing land grab is being closely watched by competitors who are increasingly desperate for new strategies to get consumers to stop chilling with Netflix. If the expansion succeeds, imitators are likely to pop up. Already, some jumbo chains have begun experimenting with in-seat alcohol service.
League says he's aware of the risks but isn't worried: Hand-wringing about the imminent death of the movies is as old as Hollywood. He says Drafthouse, which is privately owned, is profitable and that attendance and revenue are growing at a steady clip. Annual sales topped $140 million in 2015. "My business is built around the idea that every once in a while people want to get out of the house," League says. "That's as alive and well as it's ever been."


The company's Austin headquarters is located in a former nightclub in the city's unofficial tequila-shooting district on East 6th Street. On a recent afternoon, League shows up wearing black jeans, a black hoodie, and a Birth.Movies.Death baseball cap. He says Drafthouse differentiates itself from other chains in part by refusing to air preshow advertising that's unrelated to coming events. Instead of a bombardment of commercials, patrons are greeted with a mix of arcane short-form videos culled from the dustbin of motion picture history and warnings about its strict no-talking, no-texting policy. (In one, Night of the Living Dead director George A. Romero tells everybody to keep quiet or he'll zap them into zombies.) "One of the things I hated most before I got into the theater business was paying $10 and then being served up some stupid ad," League says.
As an undergraduate at Rice University in Houston in the early '90s, League double-majored in mechanical engineering and art history. Years later he approaches moviegoing much as a flight engineer might approach airline safety, breaking down the experience into constituent subcomponents and then assigning specialists to optimize performance. "What the Internet has done is make people really impatient and nit-picky," he says. "Because of that, you better damn well make sure that every aspect of your business is on point."
Drafthouse's corporate staff is packed with connoisseurs. The job title of one full-time employee is head of beer. Inside a windowless room, a pack of video producers, who look like they could play varsity for UT's movie trivia night team, creates the mélange of preshow spectacles. Nearby, a projectionist rhapsodizes about the technical capabilities of Drafthouse theaters, which can switch among digital, 3D, and 35mm film. Many multiplexes have gotten rid of human projectionists altogether, but Drafthouse still hires and trains them to put on the shows. Their attention to lighting and sound is monastic.
As the prefilm entertainment plays, black-clad waiters take meal orders. The standard menu offers a range of snacks (bottomless popcorn, roasted garlic hummus), hot food (Buffalo chicken pizza, triple pork burgers), salads, beer, wine, and cocktails (including "adult shakes" such as Maker's Mark milk punch). Patrons can order more food or beverages midmovie by scribbling down an order on a piece of paper and clipping it to the table in front of their seat. Drafthouse routinely rolls out specialty food and cocktail ideas conceived for particular movies. League says the film-inspired grub tends to stimulate food and alcohol sales and flash-dances across social media.
The national colonization got off to a rocky start. In 2004 the Leagues sold Drafthouse's franchising rights to a team of former employees. (Karrie spends less time managing day-to-day operations now.) Communication between the couple and the team soured, and the Leagues sued. Eventually, the dispute was resolved over a pancake breakfast. "It took a fight for us all to start talking again," League says. After the suit was dropped, the companies merged, League took over as chief executive officer, and plans for a national rollout began anew.
Whether a brand such as Drafthouse, weaned on the fervent devotion of a college town, can appeal in the long term to more sedate audiences in suburban America remains to be proved. In the hinterlands, local chefs and beverage directors receive video tutorials from the mother ship detailing how to prepare new items. Managers in Austin keep tabs on their performance, frequently collecting feedback from customers via online surveys of ticket buyers. If scores slip, quality-control experts are dispatched to intervene.
In 2013, Anthony Coco and his business partner, Joseph Edwards, opened a Drafthouse in Ashburn, Va., a Washington suburb. Coco, 32, grew up in Texas and worked for years at his family's business, Jason's Deli, a national chain of sandwich shops. When he heard Drafthouse was forming franchises, he scrambled to get onboard. Before opening in Virginia, the partners spent three months training in Austin. "We did everything from making the salad dressing to running management shifts," Coco says. "We all know we're in a difficult business—serving food, beer, and hard liquor in a dark auditorium and trying to be quiet. There are always challenges, but they do a good job of working with us." (Franchisees get creative leeway. League asks that 20 percent of menu items originate with local chefs to reflect nuances in regional cuisine. In Ashburn the Drafthouse serves crabcakes and other mid-Atlantic delicacies you won't find in Texas.)
League says he's still on the hunt for franchisees. No matter how insightful their dissertation on, say, the semiotics of Paul Verhoeven's early Dutch work, though, penniless aesthetes needn't apply: Would-be partners must invest a minimum of $3 million. League acknowledges that if his younger self, who with his wife cobbled together the first theater on a shoestring, walked in the door tomorrow, he wouldn't pass muster. "I'd probably have to reject myself," he says. "Not enough money."
Before it's here, it's on the Bloomberg Terminal.
LEARN MORE