Saudi Market-Share Push Ends First Year With Higher Oil Exports
by
Shipments expanded 4% to 7.39 million barrels a day in 2015

Production was still over 10 million barrels a day in December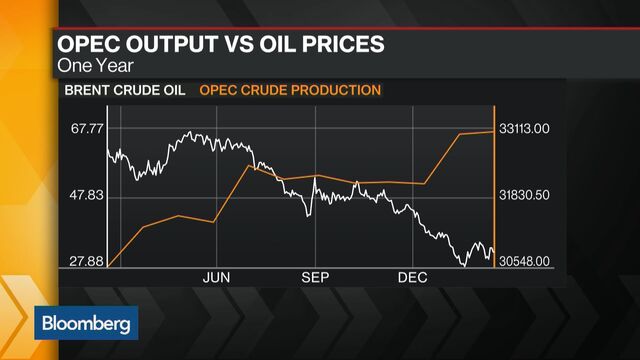 Saudi Arabia boosted oil exports in 2015 as the world's largest crude shipper ended its first year of a plan to defend market share with global supplies on the rise.
Crude exports averaged 7.39 million barrels a day last year, 4 percent higher than 7.11 million barrels a day a year earlier, according to data compiled by Bloomberg from the Joint Organisations Data Initiative. Shipments in December were 7.5 million barrels a day compared with 7.7 million barrels in November, JODI data released on Thursday showed.

Saudi Arabia led the Organization of Petroleum Exporting Countries in November 2014 to refrain from cutting production to boost prices in the face of growing supplies from the U.S. to Canada and Russia. With Brent close to 12-year lows, Saudi Arabia and Russia offered this week to freeze output near record levels as long as others follow suit.
"The customers who stockpiled crude oil were the ones who benefited the most from the Saudi policy to maintain its market share," Mohammed Ramady, London-based independent analyst, said by phone on Thursday. "They filled their storage with cheaper Saudi crude."
Production was 10.1 million barrels a day in December, staying above 10 million barrels for a 10th consecutive month, the JODI data show. Since November 2014, Saudi Arabia's production climbed 5.6 percent as exports advanced 2.6 percent.
Saudi Arabia's exports hit 7.9 million barrels a day in March, the highest since November 2005. "We don't want a reduction in supply," Saudi Oil Minister Ali Al-Naimi told reporters in Doha in announcing the agreement with Russia, Qatar and Venezuela. "We want to meet demand."
Global oil demand last year was very high and "exceptional" as low oil prices boosted demand from transportation and petrochemical industries in the U.S., China and elsewhere in Asia, OPEC said in its February monthly report. Oil consumption grew 1.54 million barrels a day last year, the second-fastest pace in the past 10 years, it said. Growth is seen slowing to 1.25 million barrels a day this year, OPEC said.
"In 2016, the Saudis realized that demand will not be as high as 2015 especially from China," Ramady said. "This explains the shift in policy this week to freeze production and thus limiting the amount of crude they will sell to the international oil market."
Before it's here, it's on the Bloomberg Terminal.
LEARN MORE