Polish Institute Says Walesa Worked With Communist Police
by
Walesa signed `declaration to collaborate,' institute says

Ex-president and pro-democracy activist denies the accusations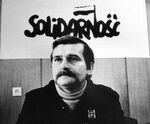 Polish pro-democracy activist and former President Lech Walesa signed a collaboration pact with communist-era secret services in the 1970s, according to documents recovered this week, the head of a government agency said on Thursday. Walesa denied the accusations.
"The documents contain an envelope, where there is a declaration to collaborate with the security services signed by Lech Walesa, codename 'Bolek,'" Lukasz Kaminski, who heads the National Remembrance Institute, a body that tracks communist- and Nazi-era crimes, told reporters in Warsaw. "The documents include hand-written receipts for receiving money, signed by Bolek."
Walesa, a former shipyard electrician who led Poland's mass Solidarity movement that helped topple communism, became the country's freely elected president in 1990. For years, he's fought allegations that he secretly worked for the old regime's dreaded security apparatus. A special court in 2000 ruled that the Nobel Peace Prize laureate, who at 72 has largely withdrawn from day-to-day politics but remains a respected elder statesman, never collaborated with government agents.
The National Remembrance Institute gained the new documents this week from the widow of General Czeslaw Kiszczak, Poland's last communist prime minister. Walesa has long denied as "absurd" claims that he ratted on the activist colleagues whom he ultimately led to victory over communism. He said Kiszczak and his agents had a track record of falsifying documents, seeking to discredit the opposition leader and prevent him from winning the Nobel Prize, which he did in 1983.
'A Forgery'
"There can't be any materials signed by me," Walesa wrote on blogging site wykop.pl., calling the new documents a "forgery" and announcing his intentions to take his case to court. He's presently traveling in South America, according to private television TVN24.
Poland's ruling Law & Justice party has long argued that Walesa, along with scores of other pro-democracy activists who negotiated with the communists in the 1980s, were tainted by collaboration with the security services and ultimately sold out Poland.
President Andrzej Duda, who ran as Law & Justice's candidate in May elections, said the discovery of documents amounted to an indictment of the political elite that came to power after the fall of communism in 1989.
"It's telling that after 27 years, in a closet of a private house of a man, who no longer played any public role, one finds secret documents of intelligence services," Duda told reporters in Rabka-Zdroj, southern Poland. "Why is it so that only now the prosecutors have been brave enough to check? How many more such houses are there in Poland?"
Before it's here, it's on the Bloomberg Terminal.
LEARN MORE