Norway Central Bank Chief Warns on Oil Wealth as Coffers Raided
by
Use of fund in budget could rise to 80 billion kroner: Olsen

Says bank still has room to maneuver on interest rates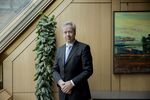 Norway's central bank governor stepped up his warning on excessive use of the nation's oil income as he predicted the government may need to withdraw almost $10 billion from its massive wealth fund this year.
"The fall in oil prices will reduce Norway's national wealth," Norges Bank Governor Oeystein Olsen said Thursday in his annual speech in Oslo. With the $810 billion fund's era of growth behind it and returns ahead uncertain amid a slowing global economy, "increased spending is not a viable path to follow."
As the crash in oil prices stings western Europe's biggest crude producer, the nation is facing bigger-than-expected withdrawals from its wealth fund. The government in October unveiled a budget using a record amount of oil wealth to support growth with plans to withdraw 4.9 billion kroner ($570 million) from the fund.
Oil prices have since dropped another 32 percent to the low $30s, meaning that figure may have ballooned to 80 billion kroner, according to Olsen.

While it may be appropriate to use the "fiscal space available" to support the economy as unemployment rises, spending of oil revenue should be "used to finance temporary measures that are easy to reverse," he said.
He doesn't see withdrawals from the fund having an impact on its overall strategy. "This era comes quicker, at an earlier stage compared to what we had foreseen," Olsen said in an interview.
Unlike petrodollar-stocked state wealth funds across the Middle East and central Asia, officials overseeing Norway's fund say the investor won't need to sell assets to meet growing fiscal needs. The investor has said it can cover any withdrawal with dividends and interest payments of about 200 billion kroner annually it makes from its holdings in equities and bonds. Still, withdrawals mean the fund's strategic shifts will be slowed down and could become more costly.
Domestically, Norway's economy is also stalling. The mainland economy, stripped of oil, gas and shipping, grew just 0.1 percent in the fourth quarter after no expansion in third quarter. One key to shielding the economy from a deeper downturn is a weaker krone, according to Olsen.
---

---
The krone has taken a beating since the drop in oil prices began. The 70 percent plunge in Brent crude since a June 2014 high has driven down the krone 16 percent on a trade-weighted basis. Olsen said in December he stands ready to lower interest rates further, after halving the benchmark rate to 0.75 percent since December 2014.
The krone strengthened as much as 0.5 percent and was trading at 9.5262 per euro as of 11:41 a.m. in Oslo. Brent was down as much as 1.7 percent to $33.71 a barrel.
The economy faces a "test in the period" ahead to cope with drop in oil prices, according to the governor.
"The Norwegian economy has enjoyed an exceptionally long summer," he said. "Winter is coming."
Olsen said he is no closer to considering whether the slowdown warrants unconventional policy measures. While the potency of central bankers around the world has diminished amid negative rates, Norges Bank still has "room for maneuver," he said.
But not everyone is convinced. With the bank's December rate path implying a 45 percent chance of rates being cut to 0.25 percent this year, "the debate on negative rates in Norway is on the agenda now," said Kari Due Andresen, chief economist at Svenska Handelsbanken in Oslo. Olsen could publicly join that debate as early as next month, she said.
Before it's here, it's on the Bloomberg Terminal.
LEARN MORE