Nomura Sees Yen Falling More Than 10% on BOJ Negative Rates
by and
March U.S. data, Japan investment plans key to currency moves

No intervention seen until dollar falls below 105 yen: Ikeda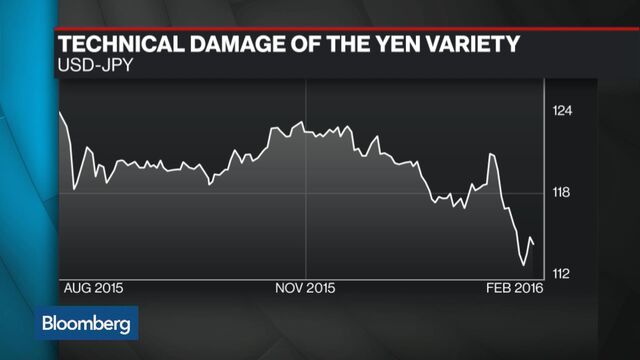 Nomura Holdings Inc. is sticking to its forecast for the yen to weaken to 130 per dollar by year-end on the view Japan's negative interest-rate policy will prompt investors to buy more overseas assets and U.S. borrowing costs will rise.  
Japan's biggest brokerage has maintained the projection since December 2014, when the yen completed a six-month slide to 119.78 after the central bank boosted its debt purchases to a record. The yen has rallied 5.5 percent this year against the dollar to 113.92 as of 2:56 p.m. in Tokyo, about 14 percent stronger than Nomura's target, as a flight to haven assets from tumbling global stocks burnished the currency's allure.
"There is nothing convincing yet to alter the outlook," said Yunosuke Ikeda, head of Japan foreign-exchange research at Nomura Securities Co. in Tokyo. "The most important check points for now are a set of U.S. data in early March. If we can confirm recession risks are low, the 130-yen forecast can be maintained."

The yen's recent strength was partly driven by the dollar's weakness as concerns over a slowdown in China and the health of banks in Europe caused traders to pare bets that the Federal Reserve will raise rates again this year after moving in December. There's a 41 percent probability the Fed will boost rates by the end of December, according to futures data compiled by Bloomberg. The odds were more than 90 percent at the end of last year.
March Data
The yen's advance is being driven by "low conviction" risk aversion, according to Nomura's Ikeda, a trend that may lose momentum should the U.S. show signs of strength when economic figures are released next month.
"The worst case scenario is the low-conviction risk off will become high-conviction should the U.S. economy become decisively bad," he said. " For this, ISM manufacturing and non-manufacturing as well as jobs data due in early March are very significant."
Indications of economic strength and an easing of risk aversion could set off a rapid recovery in the greenback, boosting it to 117-118 yen "immediately," Ikeda said. While an advance beyond 118 yen would require a solid outlook for higher U.S. rates, a gain to about 117.50 is achievable without any expectations of a Fed move, he said.
The Japanese central bank's impact on the yen is being outweighed by excessive haven demand, according to Ikeda. The BOJ's negative-rate policy should support the greenback against the yen when the nation's long-term investors such pensions and regional financial institutions review their allocation plans for the fiscal year starting in April, he said.
Overseas Yields
"About 70 percent of Japanese government bonds carry negative yields and this will inevitably prompt diversification into relatively high-yielding foreign debt, or domestic and overseas stocks, as well as REIT," Ikeda said. "Once markets calm down by March, the environment will be set for risk taking when the new fiscal year starts. A scenario in which the dollar reaches 130 yen will still then be valid, but you'd need three Fed rate hikes to push it there."
Japan's currency had surged by more than 10 yen against the dollar since Jan. 29, when the BOJ decided it would charge some lenders 0.1 percent on their excess reserves. The yen touched 110.99 on Feb. 11, its highest since October 2014, as an index of global stocks slumped to the lowest level in 2 1/2 years.
The yen's rapid gain is unlikely to convince the government to sell the currency in the market, as such action would require approval from the U.S., Ikeda said.
"There will be no intervention until the dollar falls below 105 yen," he said. "Until then, the yen appreciation pressure will be dealt with by strengthening the BOJ's negative rate policy."
Before it's here, it's on the Bloomberg Terminal.
LEARN MORE