Nestle's Underwhelming Sales Outlook Puts Pressure on Bulcke
by
Stock declines as much as 4.5%, biggest drop in six months

CEO says dividends, M&A outweigh buybacks for uses of cash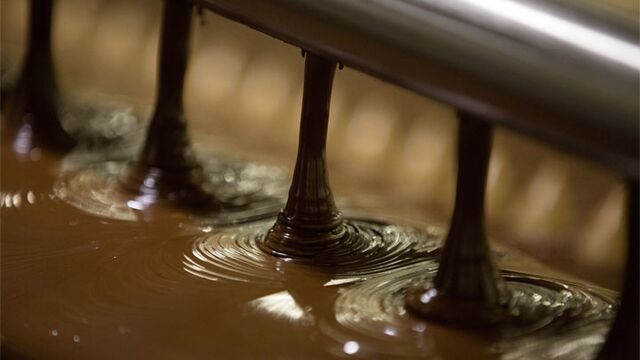 Nestle SA forecast 2016 sales will miss the Nescafe maker's long-term target for a fourth year, increasing pressure on Chief Executive Officer Paul Bulcke to find new areas of growth as he enters the home stretch of his tenure.
Revenue will increase at a similar rate to last year's 4.2 percent on an organic basis as it becomes harder to raise prices, the maker of Nespresso coffee and Gerber baby meals said Thursday. The world's largest food company also reported full-year profit that missed estimates and let down investors who had been expecting a share buyback. The stock fell as much as 4.5 percent.

"A disappointing end to the year for Nestle," wrote Jeff Stent, an analyst at Exane BNP Paribas. "Guidance is underwhelming albeit realistic."
Bulcke has been seeking expansion and acquisitions in skin health and medical nutrition to reduce the company's reliance on the growth-challenged packaged-food industry. Nestle is under pressure to drop its goal for long-term average sales growth of 5 percent to 6 percent, which is a relic of a more inflationary economy, analysts at Jefferies said.
"We are not accustomed to Nestle being average," said Sanford C. Bernstein analyst Andrew Wood, "but it is becoming more frequent."
Open Book
The KitKat maker missed the goal in half of the eight years Bulcke has led the company. Nestle isn't "closing the book" on the long-term targets because strategy shouldn't be determined by short-term conditions, the CEO told analysts and journalists at the company's Vevey, Switzerland headquarters.
Slowing economies are making it harder to charge more for products. Pricing boosted 2015 sales by 2 percentage points, compared with 2.2 percentage points in 2014. 
This year's results will be more uneven than usual quarter-by-quarter due to a difficult comparison with the first three months of 2015, Chief Financial Officer Francois-Xavier Roger said. That's mainly because Nestle is catching up after a recall of Maggi noodles in India, and baby food is also weaker in the U.S., he said in an interview. Inflation in emerging markets may boost pricing power in the second half of 2016, Roger also said.
"No panic if you see a bit of a weaker first quarter," the CFO said. "We know it's likely to happen."

Trading operating profit fell to 13.4 billion francs, missing analysts' estimates for 13.8 billion francs. Analysts have forecast 4.7 percent organic sales growth in 2016, according to Pierre Tegner, an analyst at Natixis. 
Bulcke listed share buybacks as the last of four priorities for the use of cash. Reinvesting for future growth is the top one, followed by dividends, which he called the best way to reward shareholders, and then acquisitions. He said Nestle expects to conclude an agreement on a planned ice cream joint venture this year, and it will consider making acquisitions to help fill gaps.
"That's where we go out and have these bolt-on acquisitions, but there's so much to be done with what we have," he said in a Bloomberg TV interview. "We do have a sizable portfolio, and that's where our prime attention goes to."
Organic Chow
Recent purchases include Merrick Pet Care Inc., a maker of organic dog and cat food that Nestle agreed to buy in July. Europe's largest company by market value is also buying out minority shareholders of Osem Investments Ltd., Israel's largest publicly traded foodmaker, for about 3.3 billion shekels ($845 million).
Bulcke is clinging to Nestle's long-term guidance ahead of a possible move into the chairman's role next year, succeeding Peter Brabeck-Letmathe. Alain Oberhuber, an analyst at MainFirst Bank AG, has mentioned three potential candidates to take the CEO job: Chris Johnson, who runs the company's cost-efficiency program, Laurent Freixe, who heads the Americas business, and Wan Ling Martello, who took over Nestle's struggling Asia, Oceania and Africa region last year. 
Nestle's board will name a new chairman at a later date, Bulcke said, declining further comment.
Sales in the Asia Oceania Africa zone rose 0.5 percent in 2015. A recall of Maggi noodles in India resulted in that market's first quarterly loss in 15 years. 
Nestle recommenced sales of one flavor, Marsala, in India in November, and added a chicken version this month, according to Martello. She said normally it would take about three years to return to pre-crisis sales levels, though she won't let her team take that long.
"It's a slow ramp-up," she said. "If we look at first-quarter numbers this year, we're still nowhere near the first-quarter last year where it was fully functioning."
Before it's here, it's on the Bloomberg Terminal.
LEARN MORE