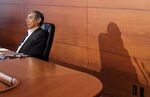 Every week, hosts Tori Stilwell, Dan Moss and Aki Ito bring you a jargon-free dive into the stories that drive the global economy.
The Bank of Japan's new rules on negative interest rates went into effect this week, with a quarter of the global economy now run by central banks that have deployed this unorthodox tool to stimulate growth. 
With stock markets in turmoil and recession fears running high, Federal Reserve officials are being asked if they'll consider going negative should economic conditions deteriorate. Karen Shaw Petrou, co-founder of Federal Financial Analytics, joins the hosts to explain exactly what negative interest-rate policies mean and what dangers -- and benefits -- may come with such an extraordinary step. 
Before it's here, it's on the Bloomberg Terminal.
LEARN MORE