Natixis: Lower Oil Prices Will Start to Hurt the Global Economy This Year
The downside is going to outweigh the benefits.
by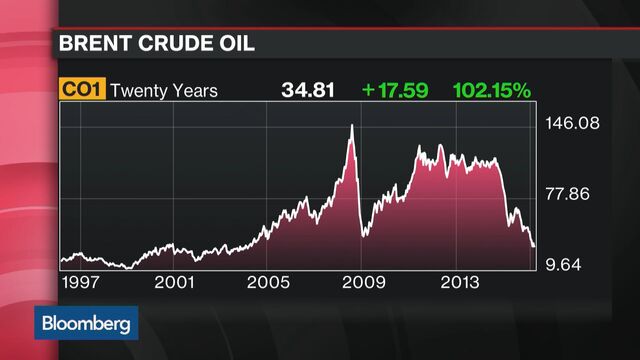 Don't expect the plunge in commodity costs to help the global economic picture any time soon.
Analysts at Natixis, led by Chief Euro-Region Economist Sylvain Broyer, contend that the headwinds stemming from lower crude will only start to outweigh any positives this year.
This analysis adds to an increasing body of commentary that claims "this time is different": lower oil prices are a drag on the global economy.
"Contrary to 2015, falling oil prices will begin to take a toll on the global economy in 2016 for three key reasons," the analysts write.
Natixis contends that a slowdown in demand growth from oil-importing nations; belt-tightening in oil-exporting countries that will hit imports in the developed world; and a rise in corporate default rates that tightens financial conditions will combine to make oil prices around $30 per barrel a net negative for global activity.
To date, the most obvious contributor to the oil market's glut has come from the supply side. Lower prices helped foster a pickup in demand growth during 2015, but this began to wane around the end of the year.
The graph below shows that real household consumption across OECD nations (primarily composed of advanced, oil-importing economies) picked up steam amid the decline in crude prices:

But a further acceleration in consumer spending growth is unlikely, the analysts argue.
"When the oil price is high, a fall, which increases real income in OECD countries, leads to additional demand," they write. "But if the oil price is low, a further fall leads to a marked increase in savings in these countries as real income is already high."
Low oil prices aren't just a boon for consumers—in some manner or another, crude is an input cost for nearly every business. Ceteris paribus, for companies that use but don't sell oil, a drop in crude prices is positive for margins. 
The problem, according to Natixis, is that profitability has not spurred an acceleration in capital spending among OECD member nations:

"The recent fall in the oil price has boosted household consumption in OECD countries, but it has not boosted corporate investment despite the resulting improvement in profitability," Broyer and his team explain. "This has led to a significant saving of revenues, stemming not from households but from companies."
The newfound weight of soft demand on oil prices also does not augur well for investment, the analysts add.
The example of the U.S., however, serves as a potential counterpoint to this broad assessment.
The immediate hit on growth from lower oil prices materialized quickly in the form of decreased capital expenditures directly linked to oil—offering a partial explanation for why the growth in productive investment across OECD nations failed to move higher.
The increase in the savings rate, meanwhile, would suggest that the U.S. consumer has largely elected to stockpile funds that would otherwise have been spent at the pump. Persistently low oil prices, however, increase the likelihood that these windfall gains will be perceived as durable and deployed rather than hoarded. Therefore, the tailwind from the world's largest economy facilitated by low oil prices, both for domestic and global activity, does not appear to have been realized to date.
Naxitis also expects the default rate in U.S. oil and gas high yield debt to surge to nearly 23 percent by the end of the year, something the analysts believe has not been fully priced into credit spreads.
If realized, they calculate this would push the total default rate in U.S. high yield up to about 8 percent. The deterioration in financial markets throughout 2016 has dimmed the growth outlook for the world's largest economy, something that monetary policymakers at the Federal Reserve have drawn attention to.
Widening credit spreads and rising default rates crimp economic activity by making it more difficult or expensive for companies to access credit.
For oil-producing emerging market economies, however, depressed crude prices present a much graver set of risks, according to Natixis.
"The possibility of a debt crisis in emerging commodity-exporting countries (14.7 percent of global GDP) can no longer be ruled out altogether, either because these countries' currency reserves are insufficient (Argentina, Venezuela, Turkey), corporates are struggling to repay their foreign-currency debt (particularly in dollars) or their public debt levels are on an unsustainable trajectory (Brazil)," the analysts warn.
Before it's here, it's on the Bloomberg Terminal.
LEARN MORE