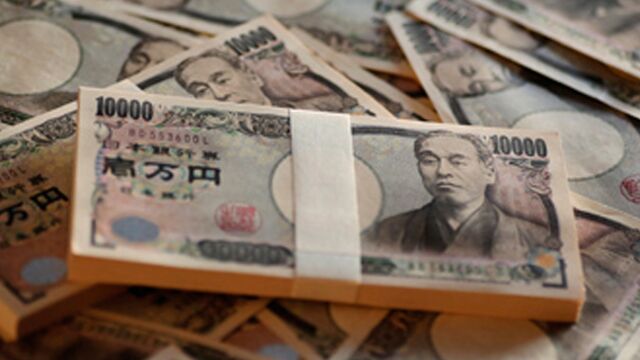 Despite all Prime Minister Shinzo Abe has done, Japan's economy contracted an annualized 1.4 percent in the final three months of 2015, the government announced on Feb. 15. Consumer prices rose just 0.2 percent year to year, perilously close to deflation. Japanese consumers, hurt by tepid growth in wages and bonuses and a 3 percentage point rise in the consumption tax in 2014, are holding on to their wallets, with private consumption dropping 0.8 percent in the quarter.
The yen has gained 5.6 percent against the dollar since the start of the year, eroding profits for exporters such as Toyota Motor and Panasonic. These companies have benefited from the yen's weakness since the prime minister came to office in late 2012 and began the policy changes known as Abenomics.
"There's no clear driver to support Japan's economy," says Yuichi Kodama, chief economist at Meiji Yasuda Life Insurance in Tokyo. Yet on the same day the government announced the economy's contraction, the benchmark Nikkei stock index rose more than 7 percent. Investors hope that the weak data could spur Bank of Japan Governor Haruhiko Kuroda, who pushed through a negative interest rate last month, to move even deeper into negative territory, or purchase even more bonds. They also hope Abe will postpone another hike in the consumption tax.

Handpicked by Abe in 2013, Kuroda has aggressively implemented the monetary policy envisioned by Abenomics. He has championed a quantitative easing program of bond and other asset purchases by the central bank that has left the BOJ with a balance sheet about three-quarters the size of Japan's $4.6 trillion economy. Kuroda's bold and unconventional moves helped drive down the yen, contributing to an increase in corporate earnings and stock prices.
In January, the Bank of Japan started charging 0.1 percent on part of the cash deposited at the central bank by big financial institutions. The idea is to encourage banks to lend instead of watching their cash lose value. "Kuroda is doing everything he can," says Marcel Thieliant, Japan economist for Capital Economics.
Abe's program has what he calls three "arrows": an easy-money policy, fiscal stimulus, and structural reforms. Although the BOJ has done its part in terms of interest rates and bond purchases, Abenomics has been a disappointment in the other two areas. The government has moved slowly on reforms of labor laws and other regulations. As for fiscal stimulus, Abe has increased spending, but also raised the consumption tax to 8 percent. He wants to raise it to 10 percent.
"Abe and the government have no choice but to depend on Bank of Japan policy," says Kazuhiko Ogata, chief economist for Japan at Crédit Agricole. But with the BOJ rate negative, Kuroda has little room to maneuver. Gross domestic product growth for the fiscal year ending in March will be just 0.8 percent, according to Bloomberg Intelligence, lower than the central bank's target of 1.1 percent. Confidence in Abenomics is falling. In a Yomiuri poll published on Feb. 16, approval of Abe's economic policies fell to a record low of 39 percent.
Kuroda may be tempted to push negative rates further. But commercial banks might then respond by charging ordinary customers for their savings accounts. Depositors could get spooked and withdraw their money. If that were to happen, "they wouldn't have enough safes" to store all the cash, says Ogata. Critics of Abenomics say it's already too late for Kuroda to save the day when major export markets such as China are cutting back on their purchases of goods made in Japan and when worried Japanese businesses are hoarding cash.
"I don't think Abenomics can deliver in this headwind," Takuji Okubo, chief economist at Japan Macro Advisors, told Bloomberg TV on Feb. 15. There's also a limit to what the central bank can achieve without structural reforms by Abe's government, says David Carbon, chief economist for DBS Bank in Singapore. "We're at the end of the road for monetary policy here," he says. "It's time that everybody recognizes that."
—With Isabel Reynolds and Keiko Ujikane
The bottom line: The most effective policy of Abenomics is the easing by the central bank, which is reaching the limits of what it can do.
Before it's here, it's on the Bloomberg Terminal.
LEARN MORE