Venture Capital
How Startups Learned to Love Debt
The percentage of venture rounds containing convertible loans has doubled since 2012.
by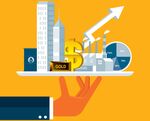 As venture capital reaches a high not seen since the dot-com boom, more technology startups are becoming addicted to quick, cheap loans. The percentage of U.S. venture rounds involving convertible debt has doubled since 2012, according to data from research firm Pitchbook Data.
Convertible debt allows investors to lend money to a company with the option to receive equity later. Structuring deals this way is faster than organizing an equity fundraising round and is often cheaper because it involves fewer legal fees, said Craig Jacoby, a partner at law firm Cooley LLP. Low interest rates have certainly helped, too.
In 2015, 19 percent of venture deals included convertible debt, compared with 13 percent in 2014, Pitchbook said. In 2012, it was 9.2 percent. Rounds involving convertible loans had previously peaked at 12 percent in 2008, around the time of the global financial crisis, before slumping. They rose sharply in the last few years.

Venture capital firms invested $58.8 billion in U.S. companies last year, the highest amount since 2000, according to a report from PricewaterhouseCoopers LLP and the National Venture Capital Association. Meanwhile, convertible debt is gaining prominence among startups of all sizes, Pitchbook data show. Jet.com Inc., a year-old Amazon.com Inc. rival valued at $1.5 billion, had completed a $220 million round that included convertible debt before selling a single product. Bloomberg reported last year that ride-hailing giant Uber Technologies Inc. raised $1.6 billion in convertible debt from Goldman Sachs Group Inc. Wireless charging startup UBeam Inc. said it took a $10 million convertible loan in September. Spotify Ltd. is seeking more than $500 million in convertible debt.
For young startups, debt has become standard because it allows them to raise small amounts of capital more frequently, said Jacoby, the lawyer. Larger companies are also embracing debt as a way to postpone renegotiating terms with investors and kick the can down the road after, say, a disappointing quarter. "It's a way to put off the valuation discussion," Jacoby said. "It lets them give the company enough money to tide them over and convert into the next round."
But loans, which typically don't give investors a vote in the company's major decisions, can also breed bad behavior. Clinkle Corp., the once-hot mobile payments flameout, raised most of its $30 million in convertible notes in 2013. After a series of high-profile stumbles, Clinkle has yet to complete another funding round or sell itself. According to Forbes, that's led some of its investors to start asking for their money back.
Before it's here, it's on the Bloomberg Terminal.
LEARN MORE