business
Global Markets Are Falling Out of Lockstep, and That's a Good Thing
By and
Declining correlation between U.S. stocks and 10 other assets

Asian stocks diverging with China up, Japan and Hong Kong down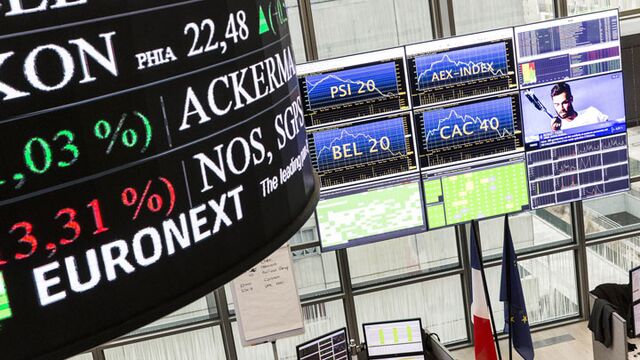 Slowly, as global markets show signs of waking from their New Year's rout, the lockstep moves that have paralyzed investors from Tokyo to New York are beginning to ease.
While four days is a small sample, the equity rally that began Friday is starting to weaken previously ironclad ties between, say, the Standard & Poor's 500 Index and things like oil and junk bonds. The easing represents a reversal from the year's first six weeks, when concerns about economic growth and solvency risk wove markets together tightly.

Loosening the ties matters, particularly to investors who want something other than paranoia and euphoria about the global economy to inform where they put their money. Markets fueled by psychology tied to China or U.S. credit conditions have proven especially difficult to trade in 2016, penalizing hedge funds and spurring outflows from equity mutual funds.
"When fear goes up, investment assets are looked at as a single category: risk," said Jim Paulsen, the Minneapolis-based chief investment strategist at Wells Capital Management Inc., which oversees $351 billion. "When fear diminishes, investors start to delineate among those assets, seeing them once again as different investments with varying characteristics. Correlations have historically ebbed and flowed with fear."
The S&P 500 fell 0.5 percent at 4 p.m. in New York, while West Texas Intermediate for March delivery rose 11 cents to close at $30.77 a barrel on the New York Mercantile Exchange.
Thirty-day correlations between the S&P 500 and 10 other asset classes including oil and global stock markets such as the Euro Stoxx 50 Index and the Shanghai Composite Index have in every case fallen the past two weeks, data compiled by Bloomberg show. As recently as the beginning of this month, stock markets around the world were moving broadly in tandem -- in several cases by the most in seven years.
Take one celebrated relationship: the S&P 500 and oil. After approaching a 15-year high value of 0.96 on Jan. 21, the correlation between the two assets has now fallen to 0.8, amid a handful of big swings in the commodity. A reading of 1.0 indicates the assets are moving in the same direction by the same amount.
Investors have pulled more than $30 billion out of U.S. mutual and exchange-traded funds that invest in equities in 2016, data compiled by Bloomberg and Investment Company Institute show.
"The outright panic to sell amid tumbling oil has dissipated," said Bill Schultz, who oversees $1.2 billion as chief investment officer at McQueen, Ball & Associates Inc. in Bethlehem, Pennsylvania. "Now we can take a more rational look at where we should be going forward."
Correlations have been working against investors all year. For instance, through last Thursday, the 600 companies in the Russell 3000 Index most owned by hedge funds had fallen an average of 23 percent in 2016, compared to a decline of 11 percent for the S&P 500. Now, with the MSCI All-Country World Index posting its longest streak of gains this year, the group has rallied 8.1 percent over the four days.
Ties are loosening between equity markets as well. Correlation between the S&P 500 and the Shanghai Composite Index reached at least a seven-year high on Jan. 25 of 0.95 -- now it's 0.5. In a note to clients Wednesday, Christopher Low of FTN Financial highlighted a disconnect in global stock indexes, contrasting recent gains in China and Europe with losses in Tokyo and Hong Kong.
The Shanghai Composite climbed 1.1 percent on Wednesday, while the Euro Stoxx 50 surged 2.7 percent. Japan's Topix index and Hong Kong's Hang Seng Index slid more than 1 percent.
"The fact major indices have uncoupled is a good sign, suggesting reason is replacing panic in at least some markets," Low, chief economist at FTN Financial, wrote.
With U.S. stocks splitting off from their global counterparts, investors are focusing more on domestic economic data that's been improving recently, according to Paulsen of Wells Capital. Citigroup Inc.'s U.S. Economic Surprise Index rose six straight days through Monday, its longest streak of gains since October. The measure has climbed 15 percent since reaching a eight-month low on Feb. 4.

Data on Friday showed retail sales increased for a third month in January. And while the University of Michigan report's preliminary sentiment index fell to the lowest since November, the share of households reporting that their financial situation had improved rose to a six-month high of 45 percent. Households remain upbeat about their finances because they expect inflation to remain muted, the data show. The S&P 500 has rallied 5.3 percent in three trading sessions since Thursday.
"The big break was really Friday," said Anna Rathbun, director of research for CBIZ Inc.'s retirement plan services unit in Cleveland, Ohio. "U.S. markets have not been trading on fundamentals, they've been trading on things like oil and Chinese markets. Fear has played out in the form of high correlations in markets, and finally they're breaking apart."
— With assistance by Lu Wang
(
Updates with Thursday's trading in fifth paragraph.
)
Before it's here, it's on the Bloomberg Terminal.
LEARN MORE