Dentsu Considers as Many as 60 M&A Deals Amid Push for Ad Talent
by and
Agency looking to keep up pace after 36 acquisitions in 2015

Focus on buying companies in growing markets outside Japan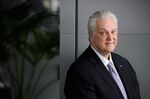 Dentsu Inc., Japan's dominant advertising agency, is considering as many as 60 acquisition targets to bring in more technology and talent to its global business.
The deals pipeline includes mostly small and medium-size companies, a contrast with the company's record 409 billion yen(about $4 billion at the time) purchase of Aegis Group in 2013, said Tim Andree, executive chairman of Dentsu's international business. The firm bought 36 companies last year, and the pace isn't letting up, he said.
"We've got a lot of momentum and I think M&A plays a role in that," Andree, 54, said in an interview at Dentsu's Tokyo headquarters this week. He declined to give a financial target for deals this year. "If you look at our organic growth, it's a nice balance with what's been occurring in M&A."
Dentsu is responding to rising competition from bigger agencies including London-based WPP Plc., which announced 42 investments last year, and entrants including International Business Machines Corp. Just this year, IBM has said it intends to acquire three digital marketing agencies, including Germany-based ecx.io, U.S.-based Resource/Ammirati and Aperto, with headquarters in Berlin.
For its part, Dentsu has already announced purchases in Brazil, Spain and the Netherlands this year, as the 115-year-old firm aims to build on faster-growing overseas markets that now account for more than half of revenue. Andree, a six-foot eleven-inch former professional basketball player, spends about 80 percent of his time traveling for business in U.S., Europe and Japan.
"Dentsu has come back with an aggressive spirit after the Aegis acquisition," said Eiji Maeda, an analyst at SMBC Nikko. "They have formed a good foundation and the strategy of adding small pieces of what they miss and what they want to strengthen further is the right way to go."
Prior to the Aegis deal, Dentsu was much less known outside Japan as it focused its overseas business on serving domestic clients. Andree was named chief executive officer of Dentsu America a decade ago, when revenue from outside Japan hovered at about 10 percent. He remembers hearing his employer called "Dents-who?"
Dentsu deals so far this year include Brazilian online audience data provider NVG Participações S.A., Barcelona-based Alesport Group, a sports marketing specialist, and the Achtung BV creative agency in the Netherlands.
Net new business rose to a record $3.6 billion last year, up from $3.4 billion in the previous period, according to Dentsu. Andree said he expects a similar growth this year, even as the slowing economy in China and slumping oil and stock prices in the U.S., Europe and Japan have added some uncertainty to the outlook.
Before it's here, it's on the Bloomberg Terminal.
LEARN MORE