Citigroup Plans Argentina, Brazil Retail-Banking Exit
by
Bank has had presence in two nations for more than a century

Argentina was Citigroup's first-ever branch outside the U.S.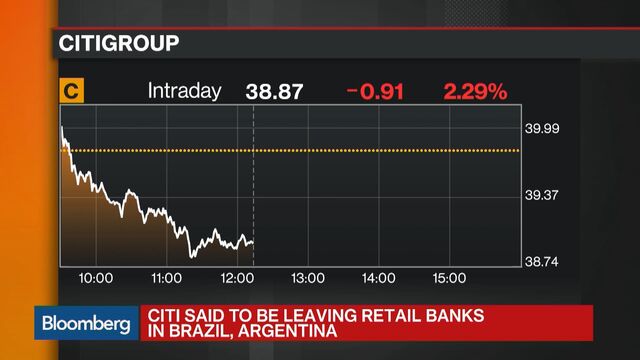 Citigroup Inc. plans to exit retail banking in Argentina and Brazil, where the company has maintained operations for more than 100 years, a person familiar with the matter said.
The departures will probably be announced in coming weeks, according to the person, who asked not to be identified discussing decisions that haven't been made public. Liz Fogarty, a spokeswoman for the New York-based bank, declined to comment on the plans.

Chief Executive Officer Michael Corbat has been scaling back Citigroup's retail footprint to simplify the company, cut costs and boost returns. He announced plans in October 2014 to drop consumer banking in 11 markets, including Peru, Costa Rica and four others in Central and South America.
The bank won't be exiting any lines of business in the institutional division as part of the new moves, according to a second person. When Citigroup agreed to sell its consumer-banking unit in Japan to Sumitomo Mitsui Banking Corp. in 2014, it still provided corporate and investment-banking services to clients.
Citigroup, which gets more revenue from outside its home market than any of its U.S. competitors, operated branch networks in 24 countries as recently as September.
The decision to leave Argentina and Brazil retail banking is one of the most sweeping since consumer-banking chief Stephen Bird took over in June from Manuel Medina-Mora, who retired. Jane Fraser, who had also been in the running for Medina-Mora's job, runs the Latin America region from Miami.
Since 1914
The Argentina unit opened in 1914 and was the bank's first non-U.S. branch, according to Citigroup's website. It has more than 2,700 employees in the country, 71 branches and 44.6 billion pesos ($3 billion) in assets, for the No. 12 ranking in the country, data from the nation's banking association show. Argentina's economy has been struggling after years of currency controls and policies that discouraged investment. The country has been unable to tap international bond markets because of a feud with creditors left over from the nation's 2001 default.
Argentina sued Citigroup's local unit last year after it reached an accord with a hedge fund allowing the bank to make two bond payments that the government said were illegal. In March, the firm said it would quit the custody business in the country after the government threatened to revoke its operating license.
Creditor Deals
Since President Mauricio Macri took over the presidency in December, he's lifted currency controls and scrapped export taxes in a bid to attract more investment. While the country remains isolated from international capital markets, the government has reached deals with some holdout creditors left over from the 2001 default and is negotiating with others in a bid to resolve the decade-long dispute.
Citigroup had about 6,000 employees in Brazil as of 2014, a company executive said at the time. It operates 71 branches in Brazil, where it began banking in 1915, according to the website. Citigroup is the 10th largest commercial bank in the country, with 80.6 billion reais ($20 billion) in assets, according to central bank data. Foreign lenders including London-based Barclays Plc and Frankfurt's Deutsche Bank AG have been pulling back from the South American nation as it faces what's predicted to be the worst recession in more than a century.
Before it's here, it's on the Bloomberg Terminal.
LEARN MORE