China Bears Say the Capital Outflow Is Just Beginning
Bloomberg News
Unwinding of carry trades less than halfway done, Daiwa says

Goldman sees $100 billion outflow risk for every 1% yuan loss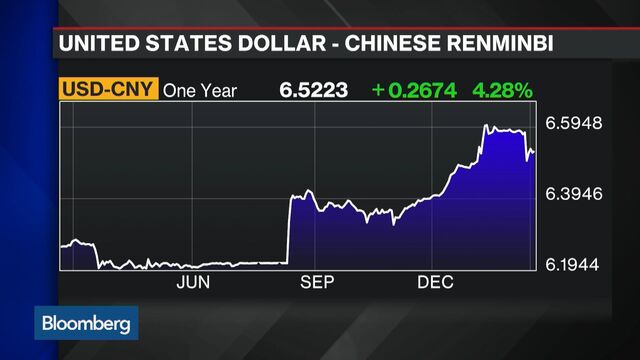 Yuan bears say this month's rally shouldn't be taken as a sign China's great reversal in capital flows has finished. Goldman Sachs Group Inc. warns that any further shock depreciation will only accelerate the exit.
Daiwa Capital Markets, which predicted the outflow risks back in 2014, says less than half of the $3 trillion of dollar debt that ended up in China has been repaid. Commerzbank AG said record new yuan loans in January showed companies are raising money to repay more debt abroad. Corporate bond sales onshore have more than doubled this year, as offshore issuance in the greenback dropped about 30 percent. Goldman Sachs says there have been $550 billion of outflows in the second half of 2015, and that every 1 percent yuan weakening risks $100 billion more.
The yuan's appreciation in the four years through 2013 prompted companies to borrow dollars offshore and use the money to profit from a strong currency and higher interest rates in China. The one-way bets began to fade in 2014 as the exchange rate to the dollar plunged the most since 1994. This month's 0.9 percent rally hasn't dissuaded analysts from forecasting a further 3.4 percent drop by year-end.
QuickTake The People's Currency
"We're less than halfway done" in terms of carry trade unwinding, said Kevin Lai, chief economist for Asia excluding Japan at Daiwa. "My main focus is not about unwinding, but the reverse carry trade. People are taking fresh positions to sell the yuan. We're talking about a massive deflationary scenario now, which is very bad for the market, economy, for everything."
Estimates Vary
Daiwa's estimate for the carry trade is on the high side because it includes borrowing by companies outside China, such as Hong Kong and Taiwan. Oversea-Chinese Banking Corp. economist Tommy Xie estimates the positions at around $1 trillion, based on data from the Bank of International Settlements and the Hong Kong Monetary Authority. Chinese companies' total foreign-currency debt dropped by about $140 billion in the second half of 2015 to $1.69 trillion, including corporate borrowing from onshore banks, Goldman estimates. That was dwarfed by the $370 billion outflows by Chinese residents buying foreign currencies, it said.
"A risk is that any further shocks to renminbi confidence and the perception of policy uncertainty could sharply compound the outflow pressure and render any subsequent stabilization attempts much less effective," Goldman wrote in a note released to media on Jan. 26.
Outflows Rise
Outflows from China increased to $1 trillion last year, according to estimates from Bloomberg Intelligence. That's more than seven times the amount of cash that left in 2014. Yuan depreciation expectations will accelerate the exit further this year, a researcher with the State Information Center wrote in the Shanghai Securities News this week, reducing the effectiveness of monetary tools such as cuts in interest rates and bank reserve-requirement ratios.
January's surge in new credit to a record 3.42 trillion yuan ($525 billion), caused by seasonal factors and a switch into local-currency liabilities from overseas borrowings, risks fueling bad debt amid the slowest economic growth in a quarter century. New yuan loans surged to an unprecedented 2.51 trillion yuan, while onshore bond issuance has reached 2.8 trillion yuan so far this year. Chinese firms' dollar note sales dropped annually in 2015 for the first time since 2008 to $220 billion as raising funds onshore became cheaper.
Policy makers will guide the yuan lower after keeping it stable for a while, said Song Yu, Beijing-based chief China economist at Goldman Sachs Gao Hua Securities Co. He estimates the currency will depreciate to 7 against the dollar by the end of this year and to 7.3 by the end of 2017. On an annual basis, the yuan's Sharpe ratio, which measures returns adjusted for price swings to gauge its carry trade appeal, was the highest in the region in 2011-2013 before turning negative.
Carry Trade
Consolidated foreign claims on China in terms of up to one year plunged 27 percent through September last year from a record $857.7 billion in June 2014, BIS data show. The indicator is a good gauge of carry trade positions, according to Mirza Baig, head of Asia Pacific foreign-exchange and interest-rate strategy at BNP Paribas SA.
One of the main reasons for China's shrinking foreign-currency stockpile is the unwinding of carry trades, Sanford C. Bernstein wrote in a Feb. 4 report, adding that this may prompt $400 billion to $600 billion of outflows. Reserves shrank $99.5 billion in January, the second-biggest drop on record, to $3.23 trillion.
Capital Curbs
Reserves will never fall to a level that threatens stability of the currency because China can strengthen regulations over capital outflows, said Zhao Yang, the Hong Kong-based chief China economist at Nomura Holdings Inc.
Goldman said in its report that such restrictions, especially if widely reported, have the potential of sowing fears of more draconian control to come, which could in turn spur more outflows.
"The problem is we don't know what the boundary of depreciation, where the end of the story, is," said OCBC's Xie. "So people just buy dollars because of the panic, because of the fear of the unknown."