Canaccord Says Amazon Is at Its Most Compelling Valuation in Years
This is your chance to get a discount on shares of Amazon.com.
By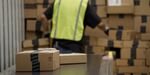 Shares of Amazon.com Inc. have taken a 180-degree turn to start 2016 after finishing last year as one of the best-performing stocks in the S&P 500. With shares now down more than 20 percent since Jan. 1, one Wall Street analyst is telling clients that this is a massive buying opportunity.