Canaccord Says Amazon Is at Its Most Compelling Valuation in Years
This is your chance to get a discount on shares of Amazon.com.
by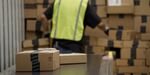 Shares of Amazon.com Inc. have taken a 180-degree turn to start 2016 after finishing last year as one of the best-performing stocks in the S&P 500. With shares now down more than 20 percent since Jan. 1, one Wall Street analyst is telling clients that this is a massive buying opportunity. 

"[Amazon's] stock is down by about 25 percent, and the valuation is as reasonable as it has been in years," said Michael Graham of Canaccord Genuity. "We believe Amazon's stock is unlikely to truly retreat into 'value' territory as long as top-line momentum is strong, and we expect this to persist for the foreseeable future." Graham joins the majority of Wall Street analysts with Buy ratings on the stock, where the average price target is $750, the same as his new price target, which was previously $600.
Amazon was one of the main reasons the S&P 500 didn't finish the year in negative territory, adding nearly 16 points to the index over the year, with its own 117 percent rise. It became known as one of the FANG stocks (Facebook, Amazon.com, Netflix, and Alphabet, formerly Google) that were basically saving the market and was likely the most influential player in the group. Canaccord had a hold rating on the firm during its run-up, and is essentially apologizing to investors by not recommending the stock earlier.
"We regrettably missed last year's big move in Amazon's stock," Graham said. "While we were confident in top-line growth prospects, we were concerned that margins would expand more slowly than consensus expected. This view was marginally vindicated by Amazon's fourth-quarter [earnings] report, wherein the company guided for a slower margin ramp. This, combined with general market weakness, has caused the stock to drop about 25 percent since the start of the year. We are therefore taking this opportunity to upgrade the stock and re-join the majority which we believe is correct in this instance."
Among the reasons that he believes the stock will continue to mover higher are more consumers shifting to online purchases, growth in membership of Amazon's Prime offering, and growth in its cloud computing services. 
Before it's here, it's on the Bloomberg Terminal.
LEARN MORE