Brexit Talks Won't Affect U.K. Labour Campaign to Stay in EU
by
Cameron negotiations `a theatrical sideshow,' Corbyn to say

Labour leader makes commitment as Cameron seeks Brussels deal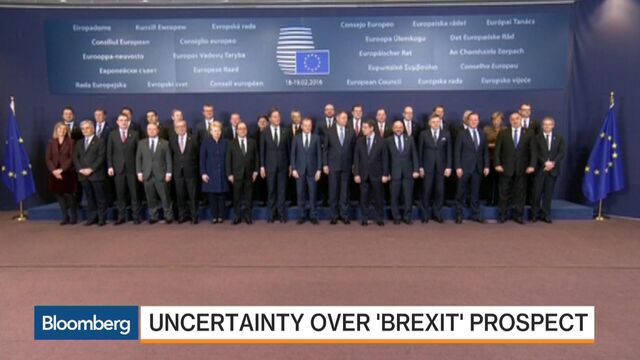 The Labour Party will campaign to keep Britain in the European Union regardless of the outcome of Prime Minister David Cameron's renegotiation, opposition leader Jeremy Corbyn will say.
The discussions "are a theatrical sideshow, designed to appease his opponents within the Conservative Party," Corbyn is due to tell a meeting of the Party of European Socialists on Thursday evening, according to remarks e-mailed by Labour. "They are not about delivering reforms that would make the EU work better for working people."
Cameron is in Brussels hoping to persuade other EU leaders to approve new membership terms for Britain and help avoid a U.K. departure from the 28-nation bloc. His four key demands are: protecting the rights of countries not using the euro, cutting red tape, limiting benefits to immigrants and absolving Britain of a commitment to an ever-closer union.
If the two-day summit concludes successfully, Cameron may hold a stay-or-leave referendum as early as June 23. Polls suggest the outcome is hard to call, with most telephone surveys finding leads for staying in the EU of more than 10 percentage points and more frequent online surveys showing the "leave" vote ahead at times.
'Missed Opportunity'
"David Cameron's negotiations are a missed opportunity to make the case for the real reforms the EU needs: democratization, stronger workers' rights, an end to austerity and a halt to the enforced privatization of public services," Corbyn is due to say. "The Labour Party will campaign to keep Britain in Europe in the forthcoming referendum, regardless of the outcome of the talks being held in Brussels today. That is because it brings investment, jobs and protection for British workers and consumers."
Until recently, Corbyn had allowed uncertainty over his position on the EU to persist following his election as Labour leader in September. Chuka Umunna quit as shadow business secretary, citing Corbyn's reluctance to endorse a pro-European stance.
Before it's here, it's on the Bloomberg Terminal.
LEARN MORE