Bombardier Now Needs Foreign Jet Orders With Air Canada Tailwind
by
Canada planemaker discounts land $3.8 billion C series order

Uphill battle ahead for share price amid program delays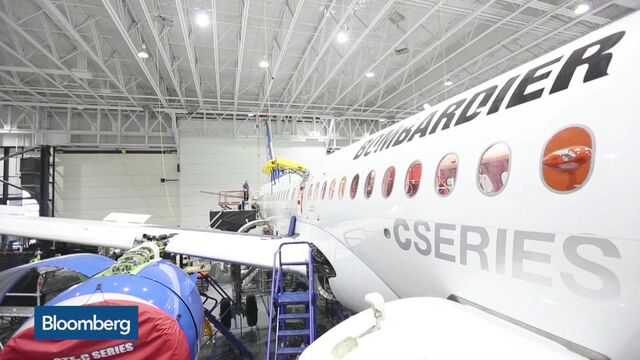 Bombardier Inc.'s new willingness to offer discounts on its struggling C Series aircraft paid off with its first commitment from Air Canada. Now it needs to score a major customer abroad to build momentum for its biggest jet program.

Air Canada on Wednesday became the first mainline North American carrier to commit to the C Series by signing a letter of intent to buy 45 CS300 aircraft. The deal has a list value of about $3.8 billion, rising to as much as $6.4 billion when options for 30 additional jets are factored in.
"It is a turning point," Bombardier Chief Executive Officer Alain Bellemare said Wednesday. "We do have an order. This is not the end of the road, it's just another big milestone in our journey to make this program a huge success."
Bombardier has been hemorrhaging cash after repeated development delays for its largest-ever aircraft, which is more than two years late, $2 billion over budget and required a $1 billion infusion from the Quebec government for a 49.5 percent stake.

There's "a good chance" United Airlines will be next to commit to the C Series by ordering CS100 aircraft, the smaller of two variants of the family, Ernie Arvai, founding partner of the AirInsight consulting firm, said in an interview. United said last month it was looking at the C Series, among other jets. Discounts on the aircraft for Air Canada likely approach or even exceed 50 percent, he said.
"It's safe to say anyone gets a big discount these days," Arvai said. "It's a buyer's market."
Bombardier signaled in December it would be more aggressive on pricing for its C Series in a bid to end an orders drought and to compete with rivals including Airbus Group SE.
 
'Right Deal'
Bellemare and Calin Rovinescu, the Air Canada CEO, both declined to discuss pricing at a Montreal press conference Wednesday, saying terms are confidential. 
"Obviously, we had to get the right deal that made sense for Air Canada, which we did," Ben Smith, president of Air Canada's passenger airline unit, said on a conference call.
The Air Canada order doesn't carry as much weight as a deal with United or Delta Air Lines because Air Canada "is the hometown airline," Arvai said. "One would have expected them to order the plane at some point." One more order from a "marquee" carrier will be required to give the program the momentum it deserves, he said.
Bombardier has been stuck on 243 firm C Series orders since September 2014. That sales drought, combined with growing concern over the company's liquidity position, dragged Bombardier's Class B stock below C$1 for 13 consecutive trading sessions through Tuesday.
Stock Surges

The shares soared 21 percent to C$1.09 on Wednesday after the deal, which came with the disclosure of 7,000 job cuts, a fourth-quarter profit that missed analysts estimates and a plan to carry out a reverse stock split. The job cuts include 2,830 in Canada, with most in Quebec.
Economics were a key factor in the decision to buy the CS300, according to Air Canada's Smith. Bombardier has said the C Series, which features the new geared turbofan engine from United Technologies Corp.'s Pratt & Whitney unit, will cost about 15 percent less to operate, cut fuel burn by about 20 percent and produce less noise.
"We absolutely love this airplane," Smith told reporters. "The level of efficiency that it provides is going to translate into a competitive position for us that will be unmatched in North America."
Ease Rules
Air Canada may have had another enticement to sign on. The Canadian government announced that it would ease rules that constrain the airline's ability to compete on the same day it agreed to buy the jets. Transport Minister Marc Garneau told reporters in Ottawa the government will seek to clarify rules that, among other things, may allow Air Canada to do maintenance at cheaper locales than Canada.
Rovinescu said on a conference call the airline faced no government pressure to become a C Series customer. As a result of the order however, the country's largest carrier was able to settle its ongoing lawsuit with the Quebec government over its obligation to keep some of its heavy maintenance work in the province, he said.
Air Canada and Bombardier will need "a few weeks" to turn the accord into a firm order, Rovinescu said. The companies still need to agree on certain "standard conditions" such as performance guarantees before closing the deal, the CEO said.
Andrew Pyle, a fund manager at ScotiaMcLeod Inc. in Peterborough, Ontario said Bombardier is still facing an uphill battle to win over investors. Even with the rally Wednesday, the stock is down 57 percent over the past 12 months. Air Canada alone isn't going to be Bombardier's savior, he said.
Negotiations Continue
"It's not like this plane hasn't been marketed to airlines around the world," Pyle said in a phone interview Wednesday. "The big issues for airlines is they really haven't been impressed by the delays getting this plane into the sky, and when you have other options out there you go with the other options."
Bombardier is still negotiating additional aid from the federal government. Quebec's investment in the C Series has given customers tangible proof that the program will be around for the long term, Bellemare said.
Canada's participation will provide a "strong endorsement"" of the program while giving the company additional financial firepower, he said. Asked about the size of Canada's potential involvement, the CEO said he's hoping it will "come very close" to the Quebec investment.
Before it's here, it's on the Bloomberg Terminal.
LEARN MORE