BOE's Cunliffe Pushes Back Against `Gloomy' Market Rate Bets
by and
Deputy Governor for Financial Stability speaks in Brussels

Says his world view hasn't changed, healing process ongoing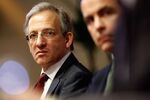 Bank of England Deputy Governor for Financial Stability Jon Cunliffe pushed back against market pricing for no U.K. interest-rate increase until 2019, saying that isn't his central view.
Investors focused on international turmoil have all but ruled out an increase in borrowing costs for the next three years and are zeroing in on the case for a cut. BOE officials looking at domestic indicators have signaled a hike will probably come earlier and most economists predict a move later this year. Cunliffe said a large change in pricing had occurred in the past month.
"I can't see anything in the economic news over the last three-to-four weeks that would lead to a shift like that," he said at an event in Brussels. "My big picture of the world, I think, hasn't changed with the market-yield curve. I think we are, particularly in the last couple of years, we are in the slow healing process from a financial bust."
The pound strengthened as Cunliffe spoke. Sterling was 0.2 percent higher at $1.4318 at 10:36 a.m. London time, after dropping as much as 0.3 percent earlier. The currency appreciated 0.2 percent to 77.70 pence per euro.
More Pessimism
The deputy governor said there a number of possible explanations for the disconnect: markets are "wrong" or the yield curve reflects growing downside risks or investors are becoming more pessimistic.
"There's also a possibility that markets have just become very gloomy about the world -- secular stagnation narrative," he said. "The yield curve for the U.K., for the U.S., for Europe, is pretty much flat as a pancake going out for a number of years and that's just because they see low growth and entrenched low inflation as the new normal."
On the U.K., Cunliffe said while consumer confidence and business investment were high, and labor-market data showed a "healthy economy," productivity had not yet recovered.
"If I put those things together I see this slow recovery," he said. "I'm still sticking to the long cycle following a financial crisis and the healing process that's painful and takes time."
Before it's here, it's on the Bloomberg Terminal.
LEARN MORE