Belgium Said to Push for Take-It-or-Leave Offer to U.K.
by and
Belgians suggest clause to make clear renegotation is final

Aim is to prevent discussion of second `Brexit' referendum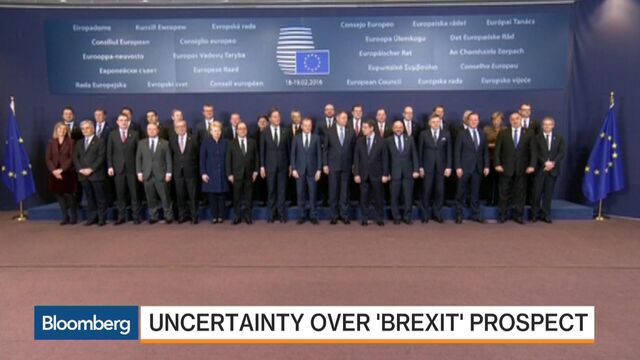 Belgium is pushing for a take-it-or-leave clause to be inserted into any deal between the European Union and the U.K., in an effort to prevent campaigners for a British exit making a surprise "second referendum" offer, two European officials said.
Belgium has suggested making clear in the papers accompanying an agreement on renegotiated membership terms that the deal is a final offer, and that a referendum vote to quit would be binding, according to the two officials speaking on condition of anonymity because the discussions are private. This would be aimed at not only killing talk of a second vote but also discouraging other countries from triggering plebiscites to force their own EU side deals.
Vote Leave, one of the groups pushing to get the U.K. out of the EU, had floated the idea of a second plebiscite as a way of taking the sting out of the coming referendum decision. The idea was that voters would be more likely to back an exit if they were told that this would only trigger further negotiations, and that they would then get another chance to make a final, binding decision. In this scenario, other EU countries might be persuaded to offer the U.K. more favorable terms to stay in if it had already voted once to leave the bloc.
"We get another bite of the cherry; no downside," Vote Leave campaign director Dominic Cummings said of the idea in an interview in January.
In the run-up to the 2014 referendum on Scottish independence, Prime Minister David Cameron's office feared Scottish National Party leader Alex Salmond was going to make a similar proposal, asking for authority to start secession talks rather than declaring full independence, in a bid to shift the momentum of the debate in his favor.
The EU leaders were discussing the draft deal with Cameron in their first evening session in Brussels on Thursday. Over dinner, they were due to move to talks about the migration crisis facing the EU. Cameron and EU President Donald Tusk were then due to meet privately to discuss the state of the renegotiation, with the goal of sealing an agreement on Friday morning.
Before it's here, it's on the Bloomberg Terminal.
LEARN MORE