Anglo Cut to Junk for Third Time This Week as S&P Downgrades
by
Moody's, Fitch lowered Anglo to junk earlier this week

Anglo is selling mines including coal and nickel to cut debt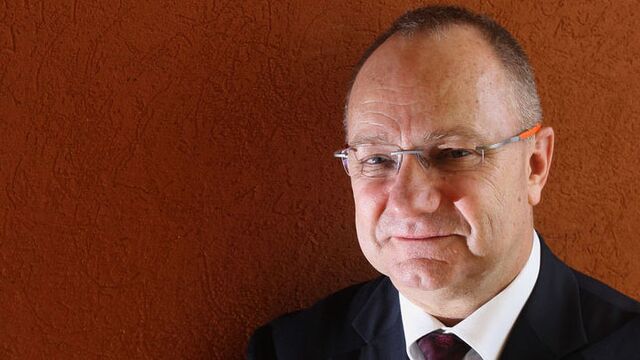 Anglo American Plc's credit rating was cut to junk by Standard & Poor's, following similar downgrades by Moody's Investors Service and Fitch Ratings this week, amid questions about the miner's ability to sell assets.
The company's rating was reduced to BB from BBB- with a stable outlook, S&P said in a statement Thursday. Moody's cut Anglo to Ba3, and Fitch lowered the rating to BB+ earlier in the week. The shares slid 4.6 percent to 446.35 pence as of 2:25 p.m. in London.
Anglo, which became the first major London-based miner to be rated junk, has said it's looking to speed up sales of coal and iron ore assets after losses bled into a fourth year. It's trying to engineer a turnaround by focusing on its best mines that produce diamonds, platinum and copper. The company wants to raise $4 billion from mine sales and cut net debt to less than $10 billion this year.
Bond Tender
Anglo said on Thursday it will start a tender for a maximum of $1.3 billion of bonds to reduce debt and interest costs. It may purchase $1 billion of notes maturing in 2016, 2017 and 2018 in euros and pounds as well as a maximum of $300 million in dollar-denominated securities, according to company statements.
On Tuesday, Anglo added mines including coal in Australia and nickel in Brazil to an already long list of assets for sale as it seeks to scale back its $12.9 billion debt. Chief Executive Officer Mark Cutifani expects to sell 10 assets by the first half of 2016 and because there are so many up for sale, Anglo wouldn't be forced to accept any offer, he said.
"Although the program should enable Anglo to lower its debt levels, the depressed market means that we view the proceeds and timeline as very uncertain," S&P said in the statement. "Because other companies are also seeking to divest assets at this time, we remain very cautious about the timing of any sales and the level of proceeds they will generate."
Goldman Sachs Group Inc. said Tuesday that the miner's plan to sell off assets was "ambitious" in such a tough environment. Bank of America Corp. questioned whether the market trusted the management team to execute sales, while Citigroup Inc. said the process was coming too late.
Anglo said earlier this week that it had a "strong liquidity" position with about $15 billion in cash and undrawn facilities with only $1.6 billion of bonds maturing this year.
In the medium term, the company wants to reduce its debt to $6 billion and return to an investment-grade rating, the company said Tuesday. The Moody's downgrade has no impact on the business, Chief Financial Officer Rene Medori said on a call after the results were announced. He reiterated that Anglo has no plans to raise money by selling new shares.
Before it's here, it's on the Bloomberg Terminal.
LEARN MORE