Anglo American Plans to Buy Back Up to $1.3 Billion of Bonds
by and
Miner tenders for bonds denominated in euros, pounds, dollars

All three rating companies downgraded Anglo to junk this week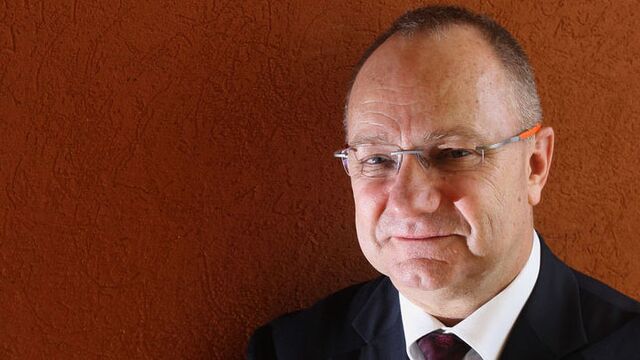 Anglo American Plc said it will buy back as much as $1.3 billion of securities after the three major rating firms cut the company to junk this week.
The miner began a tender for the equivalent of $1 billion of notes denominated in euros and pounds that mature in 2016, 2017 and 2018, as well as $300 million of bonds due in 2017 and denominated in dollars, according to company statements. Standard & Poor's downgraded Anglo's credit rating to junk on Thursday, following similar downgrades by Moody's Investors Service and Fitch Ratings this week.
"This is more of a symbolic move to show to the market that they are confident with their liquidity levels," said Saida Eggerstedt, a money manager who helps oversee about 29 billion euros ($32 billion) of corporate bonds at Deka Investment GmbH in Frankfurt. "Probably they are unhappy with the rating agencies' decision."
Anglo, which became the first major London-based miner to be rated below investment grade, has said it's looking to speed up sales of coal and iron ore assets after losses bled into a fourth year. The company plans to raise $4 billion from mine sales and cut net debt to less than $10 billion this year.
Asset Sales
Goldman Sachs Group Inc. said Tuesday that Anglo's plan to sell off assets was "ambitious." Bank of America Corp. questioned whether the market trusted the management team to execute sales, while Citigroup Inc. said the process was coming too late.
"Although the program should enable Anglo to lower its debt levels, the depressed market means that we view the proceeds and timeline as very uncertain," S&P said in a statement before the tender offer. "Because other companies are also seeking to divest assets at this time, we remain very cautious about the timing of any sales and the level of proceeds they will generate."
Anglo's decision to buy back debt follows Deutsche Bank AG's offer last week to repurchase $5.4 billion of bonds to boost investor sentiment amid a selloff of the lender's riskiest debt.
Bonds Rise
"It's good to see management teams actively addressing their capital structures as an acknowledgement of the challenges they face," said David Ennett, the head of European high yield at Standard Life Investments, which manages about 250 billion pounds ($359 billion).
Anglo's 750 million euros of 1.75 percent bonds maturing in April 2018 jumped 5 cents on the euro to 90 cents, the highest in more than two months, according to data compiled by Bloomberg. The company's 600 million euros of notes due in November 2020 rose 4 cents on the euro to 75 cents, the biggest jump on record for the securities, the data show.
Credit-default swaps insuring 10 million euros of Anglo American's debt for five years fell to 1.3 million euros upfront, and 500,000 euros annually, from 1.6 million euros in advance on Wednesday, according to S&P Capital IQ. The contracts peaked at 2.7 million euros upfront on Jan. 14, the data show.
Before it's here, it's on the Bloomberg Terminal.
LEARN MORE