U.K. Stocks Lead Europe This Year Despite 'Brexit' Risk
by
British miners are top performers among European shares

Even companies most at risk in Brexit fall less than region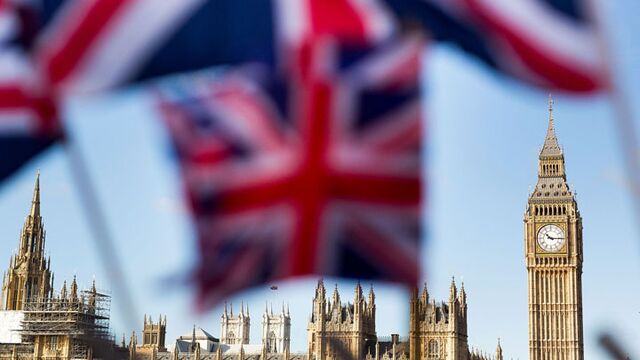 Investors who stood by U.K. stocks during a miner-led slump are now better off than those who bet on any other European market.
Not that U.K. shares are posting great returns -- the FTSE 100 Index is down for the year. But its 3.4 percent decline is about a third that of the regional Euro Stoxx 50 Index, and traders have been piling into exchange-traded funds that track the stocks. The British gauge fell 1 percent on Thursday.

The stocks to blame for the four-year underperformance in the FTSE 100 are now the very ones making it stand out. Randgold Resources Ltd. and Anglo American Plc are up more than 47 percent in 2016, thanks to a gold rebound and corporate attempts to counter the commodity rout. Tesco Plc and Rolls-Royce Holdings Plc -- among the big losers in 2015 -- are now leading gains. Even British financial firms, which make up a fifth of the benchmark, are suffering less than European rivals.
"It's payback time for companies that were battered last year," said Alan Higgins, chief investment officer at Coutts & Co. in London. "They've been able to restore investor confidence, sending out a very positive message that they are actively dealing with their issues. That adds to the strong bounce-back effect for the FTSE 100."
Anglo American said this week it will cut debt and sell more mines, pulling out of coal and iron ore to focus on diamonds, platinum and copper. Glencore Plc, up 33 percent this year, signed new loan commitments, a proof of lenders' confidence after efforts to turn itself around. After six straight years of losses, grocer Tesco has surged 25 percent in 2016 as a decline in sales slowed. Rolls-Royce has jumped 18 percent after ending a run of profit warnings.
The FTSE 100 climbed for a fourth day on Wednesday, its longest streak of the year. It's rebounded 8.9 percent since hitting a more than three-year low last week.
And what if Britain decides to leave the European Union? The FTSE 250 Index and FTSE Small Capitalisation Index have still fallen less than the Euro Stoxx 50, a sign concerns for those smaller companies most at risk have yet to be fully reflected in the market -- some say worryingly so. In bonds land, gilts are the best performing among major markets this year, and the U.K. sold debt at a record-low yield just on Wednesday.
QuickTake Will Britain Leave the EU?
Throughout the rest of Europe, growing worries over the efficacy of European Central Bank stimulus and bad loans at Italian banks have hit the regional stock gauge particularly hard, sending it down as much as 30 percent from its April high. That's led to outflows from the Vanguard FTSE Europe ETF and WisdomTree Europe Hedged Equity Fund, the two biggest ETFs tracking the region's shares.
In turn, U.K. ETFs have been drawing interest. The iShares Core FTSE 100 UCITS ETF and Vanguard FTSE 100 UCITS ETF have together gathered almost $257 million this year.
"Perversely, at the worst time for commodities, you're actually getting a stock-price recovery on bets that companies will be able to protect themselves," said Justin Urquhart Stewart, co-founder of Seven Investment Management in London. His firm oversees about $13 billion. "The FTSE 100 has been a big winner in 2016 of this significant change in sentiment."
Before it's here, it's on the Bloomberg Terminal.
LEARN MORE