World's Top Coal Miner Told to Reform as Import Costs Plunge
by
State-run Coal India faces more competition as monopoly eases

Market stranglehold still sufficient to cushion shares in 2016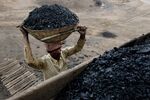 India has a stark message for its national coal miner as global prices of the commodity slide: revamp operations at the world's biggest producer of the fuel, or run the risk of struggling.
State-run Coal India Ltd. needs to act because imports are becoming more affordable and the government is chipping away at the company's commercial monopoly, according to federal Coal Secretary Anil Swarup. Record recent output shows the organization's capacity for change, he added.
"As competition comes in gradually from imported coal and domestically, Coal India will have to reinvent itself," Swarup, 57, said in an interview in his New Delhi office. "Margins may shrink a bit if international prices keep falling, but this kind of pressure should make Coal India more efficient."
Coal India's productivity still trails far behind the average for the industry globally even after Swarup spurred a jump in the company's output. A domestic stranglehold that stretches back more than four decades is helping earnings and cushioning the share price, but other state businesses can now vie for customers for the first time.

The miner's stock has dipped about 4 percent this year, the sixth-best performance in the S&P BSE Sensex index. The benchmark gauge is down 9 percent amid a global rout.
"Coal India never bothered about costs," said Debasish Mishra, a partner with Deloitte Touche Tohmatsu India LLP in Mumbai. "The government has made it very clear that they will have to become more efficient. They will have to make better use of their work force, outsource where needed and adopt modern mining technologies."

The company's output rose 9.6 percent to an unprecedented 426.3 million metric tons in the 10 months ended Jan. 31, exchange filings show, and the goal is 1 billion tons annually by 2020 as Prime Minister Narendra Modi seeks energy security.
Global Ramifications
Modi's pursuit of that target may have global ramifications. For instance, Goldman Sachs Group Inc. has estimated that higher Indian output will likely contribute to a 10 percent drop in seaborne trade of the fuel by 2020 and filter into reduced pricing power for thermal coal.
A mixed domestic demand outlook -- power-plant inventories are at a record -- cheaper imports and the parlous finances of India's indebted electricity distributors also suggest diminished pricing power at Coal India. CLSA India Pvt. this month cut its rating on the stock to outperform from buy.
Coal at Australia's port of Newcastle, an Asian benchmark, has tumbled about 30 percent in the past year. Imports are more attractive now for coastal consumers, according to Vinay Prakash, the mining chief executive officer for Adani Enterprises Ltd. The company is the biggest importer of the fuel in India.
Swarup, the top bureaucrat in the coal ministry, said Coal India is looking afresh at upgrading equipment and mining techniques, and employing younger workers who are being well trained with a view to bolstering productivity.
"We're taking the help of advanced mining countries, such as Australia, for getting the mining equipment and technology," he said.
Reitrees
About 15,000 employees are retiring every year and only a third of the vacancies are filled, Coal India's Kolkata-based Personnel Director R. Mohan Das said. 
Coal India's average output per man shift, a measure of productivity, was 6.2 tons in the year ending March 2015. The global average is more than 15 tons, according to the World Coal Association.
The government in December allowed other state enterprises to compete with Coal India, a step that may foreshadow a broader opening in future to the private sector. 
Yet the administration is also treading carefully. Coal India employs almost 330,000 people, unions are prone to striking against changes they dislike and some opposition parties don't want a greater role for private companies.
India needs to be more aggressive in modernizing its coal industry, according to Deloitte's Mishra.
"The government should consider allowing large, global miners who can use better mining technology and capital to tap underground reserves," he said. "Opening up the sector just to state mining companies may not achieve these objectives."
Before it's here, it's on the Bloomberg Terminal.
LEARN MORE