pursuits
Giving Shoppers Less Means Big Bucks for Indian Retailer
By and
Supermarket chains, including foreign ones, lose money

D-Mart woos Indians with promise of all-year discounts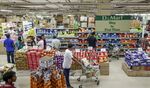 India seems to be the place retailers go to lose money. Wal-Mart Stores Inc. came in with dreams of a supermarket empire, but has had to settle for a scaled-down operation that's been burning cash in each of the last seven years. Carrefour SA came in 2010, opened five stores, then left in 2014. Germany's Metro AG's losses have also persisted, 13 years after it opened its first store.
India's D-Mart supermarkets, which have managed to turn a profit in each of the last 15 years, are an example of how to do it right. The chain makes money from giving customers fewer choices of no-frills products, enabling it to negotiate better prices with vendors, and by refusing to spend money on analytics, loyalty programs, social media or any other new-fangled strategies. It just sells cheap stuff.
"We've been doing just one thing. No distractions," said Neville Noronha, chief executive officer of D-Mart parent Avenue Supermarts Ltd. "On Sunday evenings our stores are so crowded, it's worse than a local train during peak hours, and I don't know why people are shopping. It's so uncomfortable."
His two larger competitors would love to have that problem. Future Retail Ltd. and Reliance Industries Ltd. -- the nation's biggest supermarket chains -- have expanded vigorously, opening 1,000 supermarkets combined and clocking tiny profits while piling on debt. In the fiscal year that ended in March 2015, Future's interest payments exceeded its operating income, putting it among the ranks of Indian companies that aren't making enough money to service their debt.
By contrast, D-Mart has added stores at a more sedate pace. Sales in the year that ended last March increased 38 percent to 64.5 billion rupees ($943 million), and will likely show another 29 percent growth when this current year's figures are calculated, Noronha said.
Margins also put D-Mart ahead of rivals. Ebit margins, or earnings before interest and taxes, which are used to assess operating income, were 6.1 percent for D-Mart in the last fiscal year, compared with 5.9 percent at Future with its 400 stores and 2.4 percent at Reliance with 3,000 outlets including supermarkets and clothing stores.
Wal-Mart has yet to turn a profit running wholesale stores in the country and made a loss of 2.3 billion rupees in 2014 from its 20 outlets that cater only to registered business people. Metro also runs a similar business with 19 stores and reported a loss of 1.1 billion rupees in the year that ended March 2015. A spokeswoman for Metro reiterated the company's goal of expanding network to 50 stores by 2020. Spokesmen for Future and Wal-Mart didn't respond to e-mails seeking comment.
Squeeze More

D-Mart, with 83 billion rupees of sales expected from its 94 stores mostly concentrated in states in western India near Mumbai, is able to squeeze more from its stores than rivals -- an estimated 24,000 rupees worth of sales per square foot, compared with 9,200 rupees at Future and 14,100 at Reliance.
"Other big retailers, they start hiring from the top, set up the head office, warehouses, and then eventually hire for the store. That kills it," said the 41-year-old Noronha. "When you start building from the top, the cost will be too high."
Mumbai investor Radhakishan Damani started D-Mart in 2000 after making a fortune trading and speculating in India's stock market. He was already investing in consumer-focused stocks and built D-Mart on the Wal-Mart model -- keeping costs low and selling products cheaply, said Ramesh Damani, a member of the Bombay Stock Exchange and a prominent market commentator.
Maximum Price
India may be the only country in the world to require makers of packaged goods to set a maximum retail price, or MRP, for every item. Selling the product -- anything from bath soap to cooking oil -- for more than this published price is punishable under Indian law. 
The historic statute is meant to protect consumers from wanton profiteering, but it also makes it "incredibly difficult" to profitably run a retail business, said Ashok Deenadayalu of Mithras Retail Services, a consulting firm. That's because chains can't charge different prices based on where they're sold, so a packet of noodles costs the same at a high-end supermarket in Mumbai or a remote shack on a Himalayan hiking trail, regardless of retail space or transportation cost variations.
Below MRP
D-Mart's draw is its promise to sell goods below this price, some by as much as 12 percent; it sells groceries and has a wide assortment of cheap household items -- from school bags to cooking utensils -- akin to a dollar store.
"If you give cheap prices on basic and common products, the perception gets built that everything in the store is cheap," Deenadayalu, who has held senior roles at Reliance Retail and the Indian units of Wal-Mart and Metro, said by phone. "Customers come for the food but also buy a whole lot of other goods that have high margins."
On any given day, a wide clientele ranging from taxi drivers to wealthy housewives can be found in the aisles.
"The feeling I get is that their prices are lower than other retail chains," said Aditi Sud, a stay-at-home mother, while shopping at the Thane outlet. "Though the choices in each segment are not that many, they are good enough." 
Future growth will come from new stores and optimizing costs, but margins are unlikely to grow much, Noronha said.
"When you are in the business of value retail, it's stupid to expect anything more," said Noronha, who joined D-Mart from Unilever Plc's Indian unit 13 years ago. "In a developed country, you can get away with making 30 and 40 percent gross margins. Not here."
Potential Listing
A potential listing for the privately held retailer could end up valuing the company at 23 times to 26 times its full-year earnings, based on the multiples of its peers. That could value the company at almost $1 billion, making it the largest supermarket operator in the country. Noronha declined to comment on whether the company will consider a share sale.
D-Mart's steady-but-slow expansion is in contrast to the country's e-commerce market, which has gone from almost nothing to more than $11 billion in 2015 by building vast supply chains capable of delivering goods across the country. But upstart online retailers have mushroomed into behemoths based on heavy discounting.
Faced with an increasing number of people shopping online, Noronha said he's looking for ways to offer customers more options, though he is wary of the trend.
"There is a lot of noise around e-commerce today, but all that noise doesn't get correlated with revenue," Noronha said. "If I have to deliver products to people's homes at this price, it's not viable."
(
Updates with Metro comment in seventh paragraph.
)
Before it's here, it's on the Bloomberg Terminal.
LEARN MORE